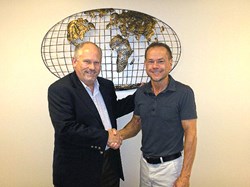 These are the ideal cutters for the high caliber of relining contractor Flow-Liner Systems attracts.
Randolph, NJ (PRWEB) September 05, 2013
Pipeline Renewal Technologies (PRT), a leader in innovative solutions for underground pipe rehabilitation, has just welcomed pipe-lining specialist Flow-Liner Systems to its family of sales partners. Through this arrangement, Flow-Liner Systems will offer PRT's Micro Basic, Micro Pro and Micro Premium models to its small-diameter lining installers. These unique, portable cutters use a system of pneumatic bladders to position the cutting head precisely in laterals 3-6" diameter (up to 10" optional); deliver precision multi-axis cutting via joystick with real-time video feedback; and perform a variety of cutting tasks as far as 100' into pipe using interchangeable bits. Flow-Liner Systems will also offer the Nano model, a cutter optimized for 2-4" diameter conduit (including vertical stretches) that has 90 degree bend articulation and is maneuvered using a steering wheel.
"Flow-Liner Systems' emphasis on innovation has made them an industry leader in small-diameter relining," said Pete Kurz, Business Manager for Pipeline Renewal Technologies. "Naturally, they want to deliver their customers enhanced performance and productivity in all aspects of pipe rehabilitation, and our Micro and Nano cutters are a perfect fit."
"With these cutters, we can finally offer a tool that makes remote lateral cutting precise and efficient," says Jeff Tanner, President of Flow-Liner Systems. "These are the ideal cutters for the high caliber of relining contractor Flow-Liner Systems attracts."
Mr. Kurz and Mr. Tanner finalized the agreement August 2, 2013, and are working together to introduce Micro and Nano cutter technology to Flow-Liner Systems installers through a series of regional seminars and on-site demonstrations.
About Pipeline Renewal Technologies
Pipeline Renewal Technologies is an Envirosight company focused exclusively on the pipeline rehabilitation market. The company offers technologies for no-dig structural lateral connection, lateral and lateral reinstatement cutting, durable point repair, and process measurement. A strong emphasis on support makes Pipeline Renewal Technologies the partner of choice for municipal contractors looking to gain a competitive edge with innovative technologies. Pipeline Renewal Technologies is a member of NASTT and NASSCO.
About Flow-Liner Systems
For nearly 40 years, Flow-Liner Systems has developed technology and installation systems for lining pipe and conduit. Their products are used widely in the water/sewer, utilities, gas/oil, telecommunications and industrial sectors, and the company supports installers in the United States, Canada, Europe, South Africa and Australia. Flow-Liner Systems is headquartered in Zanesville, OH and maintains sales offices in Columbus, OH; Washington DC; and Las Vegas, NV.