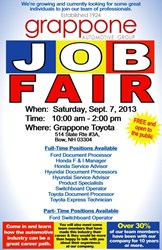 Concord, NH (PRWEB) September 05, 2013
Grappone Automotive Group will be hosting a Job Fair on Saturday, September 7 from 10 a.m. till 2 p.m. in Grappone Toyota on Route 3A in Bow. They are currently looking to hire 20 Product Specialists as well as other positions.
To be a Product Specialist at Grappone doesn't require any sales experience. Product Specialists will make a minimum of $500 a week during 90-day training. Grappone is home to a Negotiation Free Sales process. Product Specialists will not have to worry about the hassle of negotiating with guests.
Grappone is also looking to hire a Ford Document Processor, Hyundai Document Processor, Honda F & I Manager, Honda Service Advisor, Hyundai Service Advisor, Toyota Express Technician, Switchboard Operator and a part-time Ford Sales Support.
At the job fair applicants will be able to fill out an application and meet with managers. Managers will be available for on-site interviews so they recommend you dress business casual.
Grappone is looking for energetic, positive people who can have fun in a professional environment. Over 30% of Grappone team members have been working for Grappone for 10 or more years. Grappone is more than a dealership. Grappone does not look for people with car experience but rather people who can relate to and take pride in the company's mission statement.
The mission of Grappone Automotive is dedication to building lifelong relationships with our team members, guests and community by serving with integrity, kindness and respect.
All team members at Grappone receive family pricing on new and used vehicles as well as parts and service discounts. Grappone also offers more benefits for full-time employees.
Founded in 1924, Grappone Automotive Group is family owned and operated and is in its fourth generation of ownership. Grappone is driven to amaze you. They are a company that focuses on helping the community, their guests and charities. For more information please visit http://www.grappone.com/career-opportunities.htm.