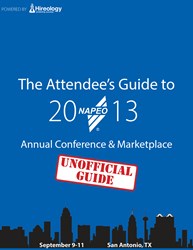 The community of PEOs lack a intuitive hiring tool that they can offer their clients
Chicago, IL (PRWEB) September 05, 2013
Hireology, the leading hiring tool for NAPEO members, recently announced their plans to attend and exhibit at NAPEO's 2013 Annual Conference and Marketplace next week. The three-day conference begins on September 9th at the JW Marriott San Antonio Hill Country Resort in San Antonio, Texas.
This is the second year that Hireology has attended and exhibited at NAPEO's annual conference and marketplace, after experiencing a high-demand for their hiring solution during the 2012 show.
"The community of PEOs lack an intuitive hiring tool that they can offer their clients," said Hireology's Product Development Director, Margot Nash. "Hireology's selection management platform expands their service library, giving PEO partners the tools to recruit and hire the right people."
Hireology works with a number of national PEOs (Professional Employer Organization) including Innovative Employer Solutions, based in St. Petersburg, Florida. Hireology provides a hiring solution for their current clients and gives them a competitive edge over competitors.
Hireology will be at booth 502 during NAPEO's 2013 Annual Conference and Marketplace. For more information on the conference and hosting city, please see Hireology's NAPEO Conference Guide.
About Hireology
Hireology is the leading selection management platform for distributed enterprises. Their award-winning Selection Manager™ includes everything an operator needs to manage their hiring process, including a fully hosted career site, integrated job postings, compensation analysis, pre-hire assessments, interview guides, background checks, skills verification and more. Franchise systems, banks and financial institutions, healthcare systems, dealer networks, and other multi-site operators use Hireology's web-based platform to deliver consistent and repeatable hiring decisions in the field - leading to lower turnover and increased profitability per location. For more information, please visit http://www.Hireology.com/.