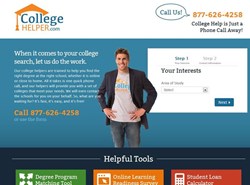 Paramus, NJ (PRWEB) September 09, 2013
In an effort to assist with America's higher education goals, on September 9, CUnet launched CollegeHelper.com. Utilizing a combination of phone-based advisors and web-based assessments, CollegeHelper.com is a free service to assist future college students prepare for college and select the degree programs that best match their career interests.
Concentrating on personal, academic and financial preparedness, CollegeHelper.com is designed to point future college students in the right direction to be successful in school and after. By evaluating capabilities and aspirations, CollegeHelper.com advisors (known simply as CollegeHelpers) work with prospective students to target the highest return for their education investment.
"For years, college students were told to follow their interests and not worry about their careers when selecting a major. But with student loan debt at record high levels, it is time to change this way of thinking," explained Todd Eicher, CEO of CUnet. "Higher education must be aligned with career opportunities and aspirations. CollegeHelper.com is one of the many methods CUnet is using to refocus higher education on career success."
Included in CollegeHelper.com is a degree matching program, employing a series of questions to assess personal preferences and match degree programs to talents and interests. Additional tools and assessments, including an online learning readiness survey and a student loan calculator, are available for use via CollegeHelper.com or the CollegeHelpers.
On September 9, CUnet launched a television campaign in various markets to create awareness of the new CollegeHelper.com service. The commercials highlight the difficulty of selecting a career and school and present CollegeHelper.com as the free solution to get started on the path toward college and a successful future.
CUnet and its sister company, Peterson's Interactive, have been matching students and schools for the past decade. Their flagship websites, CollegeInfo.com and Petersons.com, together provide information for more than 40,000 higher education programs and help more than 400,000 students connect with higher education institutions each month.
For more information about CollegeHelper.com, go to CollegeHelper.com or call 877-626-4258 to speak with a CollegeHelper.
For more information about CUnet's expertise, products and services in higher education enrollment marketing, please visit http://www.cunet.com.
About CUnet
For almost a decade, CUnet's enrollment marketing experts have helped colleges and universities reach, recruit and enroll the best students for their programs. With the industry's leading technology platform, a comprehensive set of online marketing services and a network of targeted media providers, CUnet partners with higher education institutions to deliver student candidates, holding itself accountable to lowering overall acquisition costs while driving enrollment growth. CUnet's recruitment marketing services are supported by a network of proprietary websites, including their flagship site, CollegeInfo.com, and the CollegeQuest.com student advisor service. CUnet is dedicated to providing the highest standards of transparency and compliance while promoting ethical marketing practices in postsecondary education. Headquartered in Paramus, N.J., CUnet is a subsidiary of Nelnet (NYSE: NNI), a leader in education planning and financing for more than 30 years. For more information, visit http://www.cunet.com.
###