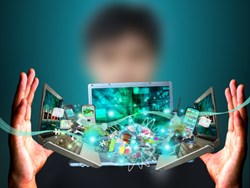 It's very hard for any party to see a VPN is being used.
Dallas, Texas (PRWEB) September 06, 2013
idcloak publishes an article recommending discrete means of how to unblock YouTube and Facebook under any kind of restriction-situation.
Blocks generally occur because connection to a site is not permitted by the local network or by the Internet Service Provider.
A second reason is that the site itself forbids access from visitors of a particular country – as is the case with YouTube's regional playback restrictions.
The article's solution to both these obstacles is the HTTPS web proxy: free anonymizing services commonly used for government surveillance protection.
"By far the simplest way to access a blocked site discretely is through a web proxy with SSL activated," says Robin Welles, author of the article.
"If the user additionally chooses to Encrypt URL and Encrypt Page, the only information they will divulge to monitors is that they connected to idcloak.com. Since our site offers resources and information on many topics beside unblocking – such as internet security and privacy – access to idcloak.com does not necessarily infer that the user has used our proxy services.
In certain occasions, it is not local network administrators that the user wishes to hide from but the site itself, "When the user wants to watch a video which they know is, for example, politically sensitive, a good proxy is equally effective. We set ours up to offer high-anonymity, which means not only is the user's IP address protected, but all evidence that he or she is using a proxy is also removed."
Although not suggested in the article, Welles adds that the most discrete blocking system possible is an OpenVPN connection on TCP Port 443. idcloak is just weeks away from releasing the service, "For sure, the moment we deliver the VPN, it will be at the top of our recommendations as the most discrete unblocker out there: it's very hard for any party to see a VPN is being used."
For more about the idcloak VPN release, and to register an idcloak VPN Early Bird Discount, go to idcloak.com.