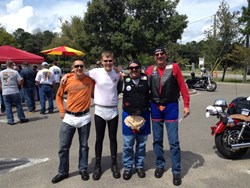 Quickly becoming Charleston's most attended motorcycle charity ride, the Undy 500 gets better and better every year. We have planned a more scenic ride and more activities for the riders this year. This is a must-attend event for every motorcycle rider.
Charleston SC (PRWEB) September 05, 2013
This Sunday, September 8, hundreds of bikers are getting together at Low Country Harley-Davidson to ride and ride for a reason. The reason being homeless and struggling veterans in South Carolina and the ride is the Goodwill Undy 500.
For the 5th year in row, riders will cover 100 miles of the beautiful Low Country, stopping a various Goodwill retail stores and ending at Red's Ice House at Bohicket. The after-party at Red's will include food, drink specials and door prizes for the riders, and will feature local band, Not So Serious.
Registration begins at Low Country Harley-Davidson at 9:30 am on Sunday with a Kick-off Ceremony and a Blessing of the Bikes at 11:00 am. Cost of the ride is $20 per person plus a new package of undergarments and includes food, ride, entrance to the after-party, door prizes and a chance to win the grand prize of $500.
Proceeds will go toward events and programs designed to support local veterans, including the Veteran Affairs/Goodwill Annual Stand Down Against Homelessness.
Event sponsors include Low Country Harley-Davidson, Red's Ice House at Bohicket Marina, The Bridge, 98 Rock, Loomis and Board Spaces.