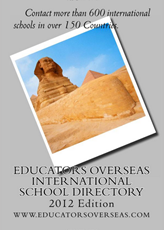 'The International School Directory is a free tool for all education stakeholders: teachers, administrators, and parents.' - Christy Grimste, Director of Educators Overseas
Washington, DC (PRWEB) September 07, 2013
Educators Overseas, in their sixth year of teacher recruiting, continues to look for new ways to help match excellent international teachers with outstanding international schools. This international school directory is just the latest way of making that happen. Organized by region and country on the homepage of EO's website (http://www.educatorsoverseas.com), the international school directory allows prospective teachers and parents to find out about all international schools across the globe.
"The International School Directory is one of the results of our six years of active service in international education. It aims to provide a tool for all stakeholders: teachers, administrators and parents," said Christy Grimste, Director of EO. Indeed, the International School Directory appears as a vast enterprise aimed towards creating a database of international schools throughout the world.
With school names, websites, emails, and phone numbers for international schools ranging from Alaska to Zimbabwe, and everywhere in between, the directory is a virtual phone/website book of schools that teach an international curriculum in a language other than that of the host country, usually in English.
With the contact information for so many schools now made publicly available in one place, international teachers will be able to quickly and easily contact potential school employers about a job. "I believe instruments such as this directory will provide more opportunities and additional assistance to teachers who are ready for the amazing experience of teaching abroad," emphasized Grimste. Teachers who desire the support of a third party rather than "going it alone" can still use EO's recruitment services to find a job. Current jobs are listed by region on their website.
Since 2007, Educators Overseas has been helping native English speakers find excellent jobs teaching ESL in China and other K-12 subjects around the world. For more information about Educators Overseas, about studying in China, or about teaching jobs abroad, visit their website at educatorsoverseas.com.