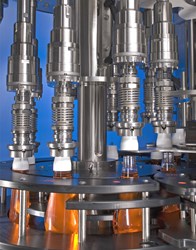 Athens, GA (PRWEB) September 05, 2013
Fowler Products, powered by Pro Mach, will demonstrate some of the latest capping solutions available for the food, pharmaceutical, spirit, and beverage industries for attendees at Pack Expo 2013 (Fowler Products Booth C-2420).
A Fowler/Zalkin 12-head capper will feature state-of-the-art BH5 Hysteresis Magnetic Clutch capping heads for accurate torque control. This new series of heads features toolless adjustment for torque control with calibrated settings in inch pounds as well as toolless changeover of cap chucks to accommodate differing closure sizes. A 10 head capper equipped for the application of roll-on aluminum closures addresses the needs that personnel in the spirits, wine, beverage, and food industries have when specifying, installing, and maintaining the new generation of aluminum roll-on capping technology.
A Fowler Compact Waterfall Sorter equipped with single lane air conveyor at its discharge will be running throughout the show. This will be the first time Fowler has displayed air conveying systems at a show.
Servo motor electronic capping as well as bottle rinsing and air cleaning technologies will also be demonstrated on single station units operating within the booth.
"For Pack Expo 2013, the Fowler team opted to display technology that would stimulate discussions in areas where companies have a need for the latest solutions and strategies in productivity, quality, sustainability, and marketing in terms of both screw-on and roll-on cap styles that help to build iconic brands," said Andy Monroe, Sales and Marketing Manager, Fowler Products. "We believe the equipment we are bringing to the show will give the majority of visitors to our booth an appreciation of the wide range of solutions being offered today by Fowler Products."
For more information on Fowler products capping, cap handling, bottle cleaning, and multi-unit system FAT integration, call 877-549-3301 and visit http://www.FowlerProducts.com to learn more about the company's capping, cap handling, and bottle cleaning equipment.
About Fowler
Fowler Products manufactures Fowler/Zalkin high-speed capping machinery and Fowler cap sorting & feeding systems, and Fowler/Perrier high speed bottle rinsing and air cleaning machines. Fowler's quality equipment serves the beverage, food, pharmaceutical, chemical, personal care, household goods and distilled spirits industries. The company is headquartered in Athens, GA. http://www.FowlerProducts.com.
About Pro Mach
Pro Mach is a leading provider of integrated packaging products and solutions for food, beverage, household goods, pharmaceutical, and other diverse consumer and industrial companies. Through multiple business units and related brands, Pro Mach provides equipment, installation, training, parts, and service in primary and secondary packaging, flexible packaging, end-of-line packaging, material handling, and identification and tracking.
Pro Mach has a diverse customer base, from Fortune 500 companies to smaller, privately-held businesses worldwide, which depend on reliable, flexible, technologically advanced packaging equipment and integrated solution sets. Pro Mach is headquartered near Cincinnati, Ohio with manufacturing facilities and offices throughout the United States and Canada. For more information about Pro Mach visit our website at http://www.ProMachInc.com.