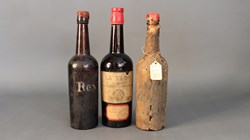 Boston, MA (PRWEB) September 06, 2013
Boston Harbor Auctions is having a two-day marine sale on November 9th and 10th, 2013 at the Lannan Gallery in Boston. The first day of the sale will feature Marine Art and Antiques and most notably the fine personal possessions collected and harbored by J. Pierpont Morgan (1837-1913): banker, yachtsman, traveler, indulger and host.
After a great success in the auction house's J.P. Morgan Auction on May 1, 2011 where Morgan's personal poker chips sold for over $60,000.00, family members and other close consignors have emerged with additional items that have been passed down through the years.
The Commodore's Flag, the Yachting Ensign and the New York Yacht Club burgee, a special set of silk dress-flags that graced Corsairs' II, III and IV (Morgan's private steam yachts), were consigned to this auction through the descendents of a former crew member who worked aboard the yachts.
In 1897, J.P. Morgan became Commodore of the New York Yacht Club, a position which he often cited as a great accomplishment. As Commodore of the prestigious club, his yacht Corsair became the club's Flagship. The Commodore Flag is a blue field with a circle of white stars with an anchor in the center. Each Commodore of every yacht club, flies the Commodore flag aboard his yacht. This flag would have flown during the America's Cup races and all of Morgan's other activities as the tycoon entertained lavishly.
Of utmost rarity in the auction are three bottles of spirits from J.P. Morgan's private cellar. In May of 2011, Boston Harbor Auctions sold a private bottle of J.P. Morgan's scotch for 7500.00. The November 9th sale will feature a rare bottle of 1795 Ne Plus Ultra cognac. The ancient paper wrap has "$1000 Ne Plus Ultra" printed on it. Also from the cellar is a bottle of 1804 fine champagne cognac and a 1838 vintage "La Flor Superior, Madeira". Morgan is known to have cherished his Madeira and he greatly influenced it's popularity.
In addition to the flags and spirits, there will be a selection of porcelain once a serving piece from all four representations of "Corsair". Personal Minton's china with a hand-painted Morgan House Flag crossing staff with the New York Yacht Club burgee as well as Flagship Minton's china showing the hand-painted Commodore's Flag will be widely represented. Each piece showing the hand-painted number of A4733, Morgan's personal pattern identification. Another piece of china in the auction is a teapot from J.P. Morgan, Jr's 1917 Herreshoff-built commuter yacht "Navette".
An early P.J. Clays painting that was presented by J.Pierpont Morgan to the "Wasp", winner of a New York Yacht Club annual cruise in 1897 will be auctioned on November 9th. Nameplates on the frame include the artist P.J. Clays and presentation plates from J.P. Morgan, then Commodore. Left plate reads: "Presented by Commodore J. Pierpont Morgan August 7, 1897". The right plate reads: "Vineyard Haven to Bar Harbor, won by Wasp". P.J. Clays has been referred to as a "master" and his paintings have been highlights of auctions dating as far back as the 1870s. Many noted New York galleries and auction houses have advertised their sales of P.J. Clays work to high society collectors and business magnates of the Gilded Age and Progressive Era.
Museum quality ship models of will be sold as well. Each a fine representation of the Flagship vessel where he quipped, "If you have to ask how much it costs, you can't afford it."
The second day of the sale will feature the contents of Anthony's Pier 4 Restaurant, a Boston Harbor institution that entertained movie stars like Elizabeth Taylor, Bob Hope and Frank Sinatra since 1963. This session of the sale offers a fabulous collection of nautical antiques and decor including several hundred lanterns, many telegraphs and binnacles, sternboards, figureheads, etc.
The auction will take place on November 9th and 10th at 11 am at 185 Purchase St. Boston, MA, home of the Lannan Ship Model Gallery.
Full catalog with descriptions and downloadable .pdf will be available on bostonharborauctions.com by October 9th, 2013. Until then, we will conduct daily updates.
Live bidding, online bidding, phone bidding and absentee bidding available. See Terms & Conditions of Sale.
Contact: Larry Lannan
617 549 2881
617 451 7447
info(at)bostonharborauctions(dot)com
185 Purchase St. Boston, MA 02110
Mail: Lannan Gallery 99 High St. Boston, MA 02110
MA Lic 2428