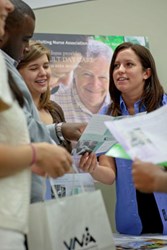 "At the VNA we believe it's important to provide our friends and neighbors with resources that will help them live healthier and happier lives." - Amanda DeFelice, Community Relations Manager
Morristown, NJ (PRWEB) September 06, 2013
Numerous Morris County, NJ organizations and businesses will come together from 11 a.m. to 2 p.m. on Sunday, September 15 for a Community Health & Wellness Fair devoted to helping area residents of all ages adopt a healthier lifestyle this fall.
"At the VNA, we believe it's important to provide our friends and neighbors with resources that will help them live healthier and happier lives," said Amanda DeFelice, Community Relations Manager at the VNA. Admission is free for the event to be held outside VNA headquarters, 175 South Street (corner of South Street and James Street) in downtown Morristown. Free health screenings, fitness tips and giveaways will be available, along with flu shots for adults, which cost $25 per person; cash, check and Medicare Part B reimbursement will be accepted. Limited free parking will be available and is accessible from Madison Street.
If you are a Morris County resident who wants to keep healthy and fit this fall and winter, mark your calendar now and join the VNA on Sunday, September 15. No advance registration is required! For more information about the event, contact Amanda DeFelice, Community Relations Manager, at 973-451-4169 or adefelice(at)vnannj(dot)org.
About the Visiting Nurse Association of Northern New Jersey:
The Visiting Nurse Association of Northern New Jersey (VNA) is a nonprofit organization with a distinguished 115-year tradition of service in Morris County and neighboring communities. The VNA provides skilled nursing, physical, occupational and speech therapy, certified home health aides, hospice care, caregiver support programs, private care solutions and Friendship House, a social adult day care center. More information is available at http://www.vnannj.org or by calling 1-800-WE VISIT (1-800-938-4748).