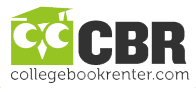 We want to do our part to make higher education affordable, and renting textbooks instead of buying them is a great way to help control expenditures.
Murray, KY (PRWEB) September 10, 2013
CollegeBookRenter.com (CBR), a leading textbook rental company, has announced an ambitious, two-week promotional campaign to reward new and existing customers as they begin the fall semester. Over the next couple of weeks, anyone who signs up or logs into an existing CBR account will be eligible to win one of the 24 daily gifts. Additionally, CBR will be giving away a variety of prizes, such as Xbox One and Playstation 4 systems, $500 Visa gift cards, and iPad minis on their Facebook page.
"Everyone knows the cost of a college education continues to skyrocket and students are graduating with mountains of debt," said CEO John Wittman. "And textbooks are no exception. Some recent studies have shown that the cost of textbooks is growing faster than tuitions. Industry sources report the average student spends between $600 and $800 each semester on textbooks and other instructional materials. We want to do our part to make higher education affordable, and renting textbooks instead of buying them is a great way to help control expenditures."
On average, CollegeBookRenter.com saves students an average 74% on textbooks, a savings of $440 to $590 per semester.
"Like many, I saved my college textbooks with thoughts of building my professional library," Wittman continued. "I thought it made sense. Recently, I discovered three boxes I've continued to move without opening since 1984. Two of them contained my old textbooks that I haven't touched. Unbelievable! I have a rather large library today and not one textbook on my shelf. There is a significant difference between textbooks and professional books for most vocations. Between the rising costs of textbooks, and the fact that students typically use a book for only one semester, renting is the logical solution."
CollegeBookRenter.com is offering free standard shipping to and from its customers, as well as a 12% discount with a coupon code. In addition, CBR aims to keep their process streamlined and simple, with no games or gimmicks that lead students into ongoing monthly fees.
"We feature one easy-to-understand price and return date per book for each academic period," Wittman said. "We strive to be simple and straight forward with students. The stress and pressure they're under is more than enough without us adding to it."
Other prizes in the promotion include Beats headphones, a one-year subscription to Netflix, and Vera Bradley, Coach, and Oakley gift cards.
About CollegeBookRenter.com:
CollegeBookRenter.com (CBR) is an online college textbook rental company that was acquired by CBR Funding LLC in June 2013. CBR has been helping students save money in the college marketplace since 2009. The company is dedicated to making college more affordable for students, by saving them up to 85% off of their textbooks. CBR aims to provide students with all of the materials that they need, without any hidden fees or monthly service charges.
For more information, visit: http://www.CollegeBookRenter.com or Facebook.com/CollegeBookRenter.