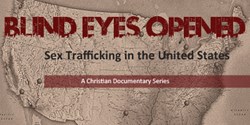 "It has been extremely encouraging to see the rapid support that the anti-trafficking community and many churches have already provided for the "Blind Eyes Opened" series and this event," - said Geoffrey Rogers, President, Ships of Tarshish
Tampa, FL (PRWEB) September 05, 2013
Tampa, FL, September 05, 2013: Ships of Tarshish, Inc. announced today that it will host what is expected to become Tampa Bay's largest ever human trafficking awareness event and fundraiser for "Blind Eyes Opened" on October 3rd, at the Straz Center in downtown Tampa, FL.
"Blind Eyes Opened" is a first-of-a-kind Christian Documentary Series focused on Sex Trafficking in the United States. This 10-episode series intends to dive deep into the sex trafficking industry and what is fueling the demand in 10 U.S. cities. With Tampa Bay in the list of the top human trafficking cities across the country, the production is starting in the Tampa Bay region. Details can be found about the series that the Ships of Tarshish is developing at http://www.shipstv.org/blindeyesopened.
The Straz Center's Carol Morsani Hall is the secured venue for the October 3rd event, which offers a seating capacity of over 2,600 people. Attendees will be able to meet with over 20 local anti-trafficking organizations when the doors open at 6:00pm that evening. The program begins at 7:00pm, with multiple speakers, videos, inspired entertainment and more. Those in attendance will learn the troubling facts about human trafficking worldwide, within the U.S., and even in the Tampa Bay area. The "Blind Eyes Opened" series will be discussed in detail, as well as the history and direction of the Ships of Tarshish ministry. The most recent information about the event can be found online at http://www.shipstv.org/blindeyesopened/october-3.
"It has been extremely encouraging to see the rapid support that the anti-trafficking community and many churches across the Bay area have already provided for the "Blind Eyes Opened" series and this event. We are looking forward with great anticipation to bring this message of hope and healing in Christ for all affected by human trafficking in our country. The first step is to raise awareness and funds for the production, which is what the October 3rd event is about," said Geoffrey Rogers, President of Ships of Tarshish.
The Straz Center is located at 1010 N Macinnes Pl, Tampa, FL 33602. For directions and parking information, go to http://www.strazcenter.org.
About Ships of Tarshish:
Ships of Tarshish is established to redefine Christian Television in America through a new breed of high quality Christian programming that is relevant, exciting and entertaining to watch, showing every day Christians releasing the Power of God by fulfilling the Great Commission. Their mission is to redefine Christian Television by the leading of the Holy Spirit. Each show produced will be of the highest quality, revealing the Glory of the Lord and His salvation, like a lighthouse to the nations. As a 501(c)3 organization, Ships of Tarshish productions are funded through charitable donations from viewers and others interested in seeing Christian television redefined. Visit Ships of Tarshish online at http://www.ShipsTV.org or on Facebook at Facebook.com/ShipsOfTarshish.
Contact:
Geoffrey Rogers
Ships of Tarshish, Inc.
813-308-9172
gmrogers(at)ShipsTV(dot)org