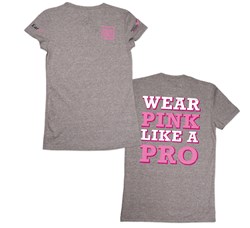 While they are very different...breast cancer and hearing loss are both threats to one's overall health.
Syracuse, NY (PRWEB) September 09, 2013
To help spread breast cancer awareness this fall, EarQ is once again making a fashion statement.
This September and October, EarQ will hold its second annual Pink Friday campaign. Staff members will wear a custom-designed t-shirt each Friday to show support for breast cancer awareness. EarQ will be selling the exclusive t-shirts to the public to encourage other companies and individuals to participate in the campaign. A portion of the proceeds will be donated to the Susan G. Komen Central New York Affiliate.
To further spread the awareness effort, the company will also donate a portion of its hearing device sales to the organization.
"While they are very different and affect the body in different ways, breast cancer and hearing loss are both threats to one's overall health," said Ed Keller, president of EarQ. "Untreated hearing loss can cause such mental and physical fatigue that it can make battling breast cancer even more difficult. That's why it's so important to be informed and to take the necessary steps to improve one's hearing."
According to the American Cancer Society, an estimated 232,340 of U.S. women currently battle breast cancer, while the National Institute on Deafness and other Communication Disorders approximates that 36 million Americans currently have hearing loss.
To learn how to purchase the t-shirt, click here.
About EarQ:
EarQ strives to revolutionize the hearing healthcare industry through innovative business and marketing practices, national public awareness efforts and advocating for excellence in private patient care. Through its 1,400 nationwide hearing healthcare locations, EarQ will work to shatter the stereotypes surrounding hearing loss and empower the millions of Americans who suffer from it to take control of their hearing health.
http://www.earq.com
Follow us on Twitter.
Like us on Facebook.