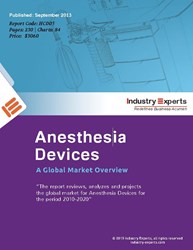 Rockville, MD (PRWEB) September 10, 2013
Anesthesia Devices - A Global Market Overview
Procuring refurbished anesthesia equipment has been a significantly noticeable trend among a number of healthcare organizations, clinics and outpatient surgery centers. The familiarity of anesthetists with a specific machine due to years of proficiency in using it and longer waiting periods for new equipment to be delivered are factors that have opened the gates for refurbishers to enter the anesthesia equipment marketplace. Other reasons for investing in comparatively cheaper refurbished equipment include easy availability of spare parts that can help in keeping the machines in proper working order, which can also be used in cases of maintaining back-ups. Readily available parts help in decreasing downtime, and facilities with extensive research departments opt for refurbished equipment for extending their purchasing power within limited budgets, thereby ensuring that resources are either stretched to the maximum or employed for other gainful and unavoidable requirements.
The evolution of anesthesia machines has encompassed the journey from being standalone non-networked systems to networked anesthesia workstations that comprise anesthesia monitors and anesthesia information systems (AIMS). The last decade has witnessed manufacturers introducing anesthesia machines with features, such as advanced ventilators, additional and new modes of ventilation, graphical screens, and loops that offer a clearer picture of the patient, with a major proportion of the ventilators being electronic and driven by software. The buyer now has several advanced ventilation options to choose from, such as synchronized intermittent mandatory ventilation (SIMV), pressure support ventilation (PSV) and pressure controlled ventilation-volume guaranteed (PCV-VG), with the additional alternative of either updating them or purchasing them on a prioritized basis.
Anesthesia device product segments analyzed in this study include Delivery Machines, Disposables & Accessories, Monitors and Information Systems. The global market for Anesthesia Devices is estimated at US$7.4 billion in 2013 and forecast to be US$8.1 billion in 2014. Maintaining a CAGR of about 7.5% between 2010 and 2020, Anesthesia Devices market worldwide is further projected to reach US$11.8 billion by 2020.
To order this report:
Anesthesia Devices - A Global Market Overview
Contact: Shauna
800.298.5699
Customerservice(at)marketresearch(dot)com
About Industry Experts
Industry Experts values the most updated and accurate market research and industry analysis to provide a unique off the shelf market research reports for a broad range of industry verticals including Automobile, Healthcare, Food & Beverage, Chemicals & Plastics, Biotechnology, Consumer Goods and Other. Our research reports help our clients to identify and resolve topical issues by providing a complete picture of the market in their respective industry sectors. The Company's rich collection of market research reports enables the companies to explore market drivers; forecast the future market; and to formulate the right strategies at the right time.
About MarketResearch.com
MarketResearch.com is the leading provider of global market intelligence products and services. With research reports from more than 720 top consulting and advisory firms, MarketResearch.com offers instant online access to the world's most extensive database of expert insights on global industries, companies, products, and trends. Moreover, MarketResearch.com's Research Specialists have in-depth knowledge of the publishers and the various types of reports in their respective industries and are ready to provide research assistance. For more information, call Cindy Frei at 240.747.3014 or visit http://www.marketresearch.com
Follow us on Facebook http://www.facebook.com/marketresearchdotcom
Follow us on Twitter http://www.twitter.com/marketresearch_
Anesthesia Devices - A Global Market Overview – Table of Contents:
Part A: Global Market Perspective
1. Introduction
2. Key Market Trends
3. Key Global Players
4. Key Business Trends
5. Global Market Overview
Part B: Regional Market Perspective
Regional Market Overview
1. North America
2. Europe
3. Asia-Pacific
4. Rest Of World
Part C: Guide To The Industry
1. North America
2. Europe
3. Asia-Pacific
4. Rest Of World
Part D: Annexure
1. Research Methodology
2. The Questionnaire
3. Feedback
Part E: Charts & Graphs