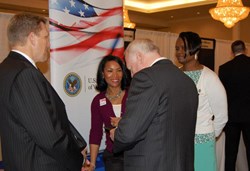 Military veterans have the leadership experience and motivation to be successful in the civilian workplace as employees and as business owners.
Fairfax Station, VA (PRWEB) September 06, 2013
Corporate Gray, a small veteran-owned business that is one of America's leading military-to-civilian career transition service firms, announced its schedule of job fairs for men and women with military experience. The eight career events will be held in Northern Virginia at The Waterford in Springfield and in Hampton Roads at the Virginia Beach Convention Center.
The company has held career events for veterans for 16 years and its job fairs attract hundreds of candidates and dozens of employers, schools, and franchisers that want to hire military veterans to join their organizations. In addition to the 8 face-to-face job fairs, the company also holds Virtual Military Job Fairs every month for candidates and employers who are not able to attend the Virginia job fairs.
These events are especially for separating, retiring, former, or retired military personnel of all ranks and services, including current and former members of the military reserves and National Guard, and their family members seeking employment. Most of the events are open to all candidates, but some are exclusively for people with security clearances or other qualifications.
The Corporate Gray Job Fairs are usually held from 9 am until 12:30 pm, preceded by free one-hour career-related seminars at 8 am. The 2013-2014 Job Fair Schedule includes:
September 13, 2013 - Springfield
October 9, 2013 - Virginia Beach
November 15, 2013 - Springfield
February 12, 2014 - Virginia Beach
March 13, 2014 - Springfield
April 10, 2014 - Springfield
May 14, 2014 - Virginia Beach
June 12, 2014 - Springfield
In addition to dozens of employers at the September 13th Job Fair, there will also be a standalone Franchise Fair for Veterans. According to Phil Trigg, founder of Veterans' Transition Forum, and Carl Savino, President of Corporate Gray, "Military veterans have the leadership experience and motivation to be successful in the civilian workplace as employees and as business owners." Representatives from the Small Business Administration, along with franchise mentors who have prior military experience, will be available to discuss business opportunities at the Franchise Fair.
Veterans will meet face-to-face with employers, schools, franchisors, and agencies who are actively recruiting veterans at the September 13th event, including: Alion Science and Technology, Allstate Insurance, Amazon, CALIBRE, CMIT Solutions, Camber, Cask, Coca-Cola, Columbia Southern University, Dave Griswold & Associates, Engility, Financial Crimes Enforcement Network, First Command Financial Services, GEICO, Hewlett-Packard, InScope International, Intelligence Careers, Lockheed Martin, MVLE, Meltech, Meso Scale, Michael & Son Services, Milton Hershey School, NJVC, Northwestern Mutual, Outdoor Lighting Perspectives, PBGC, Prince George's One Stop Career Center, Prince William County Police Department, Prince William County Public Schools, Renew Crew, Reserve Officers Association, Sentara Healthcare, Snap-on Tools Franchise, State Farm, The Art Institutes, The Boeing Company, The Cleaning Authority, The SkillSource Group, UN Employment Information & Assistance Unit, U.S. Department of State, URS, United States Secret Service, Virginia Employment Commission, and more.
About Corporate Gray
Competitive Edge Services, Inc., which does business as Corporate Gray, provides military-to-civilian books, job fairs, and online services. Since 1997, Corporate Gray has distributed more than 3 million copies of its military-to-civilian career transition books for free to everyone who has separated or retired from active duty. The company has held more than 100 job fairs for veterans throughout the U.S. and overseas. The company, based in Fairfax Station, Virginia, was founded by Carl S. Savino, a former Army officer and West Point graduate. More information is available online at http://www.CorporateGray.com.