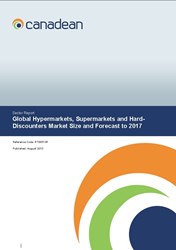 Rockville, MD (PRWEB) September 12, 2013
Global Hypermarkets, Supermarkets and Hard-Discounters Market Size and Forecast to 2017
Consumers have been reacting to the effects of the global recession including the following recovery period on their discretionary spending and retail markets have been no exception. While the country by country market changes have varied, nowhere has been left totally untouched. This report quantitatively examines the components of change in the market by looking at historic and future growth patterns including how changes in consumers' behavior have affected the retail sector for different product categories through Hypermarkets, Supermarkets and Hard-Discounters.
This report provides detailed quantitative analysis of past and future trends, crucially providing retail sales data of products through Hypermarkets, Supermarkets and Hard-Discounters. Data sets are provided for 2007 through to 2017, with actuals being provided for 2012. All initial market sizing and analysis is conducted in local currency in order to ensure that local trends are reflected in the data before conversion into other currencies.
Key highlights include:

The top five EU nations: the UK, France, Germany, Russia, and Italy, accounted for more than half of European retail sales through the channel in 2012. Their combined share is expected to decline by 2017.
Japan and China together accounted for over 65% of total Asia-Pacific retail sales through the channel in 2012. It is expected to remain similar through to 2017.
To order this report:
Global Hypermarkets, Supermarkets and Hard-Discounters Market Size and Forecast to 2017
Contact: Shauna
800.298.5699
Customerservice(at)marketresearch(dot)com
About Canadean Ltd
Canadean has long held a reputation with FMCG markets for providing specialist business information by conducting detailed industry and consumer research, supported by insightful value-added analysis. Canadean covers the entire spectrum of the consumer value chain from suppliers, brand owners, distribution channels and consumer insight.
By researching markets in a holistic way, Canadean's research methodology enables clients to make informed, strategic decisions that are founded on robust and reliable data and market insights. Canadean specializes in online survey panels, qualitative and quantitative in-country research, industry analysis and consultancy.
Canadean's dedicated in-country researchers and analysts have an industry background in marketing, market research, consulting and advanced statistical expertise. They are well positioned in the industries themselves and therefore, best placed to ask the right questions of the right people. This network of professional researchers stretches across more than 80 countries, enabling Canadean to conduct unique research via our trusted business communities.
About MarketResearch.com
MarketResearch.com is the leading provider of global market intelligence products and services. With research reports from more than 720 top consulting and advisory firms, MarketResearch.com offers instant online access to the world's most extensive database of expert insights on global industries, companies, products, and trends. Moreover, MarketResearch.com's Research Specialists have in-depth knowledge of the publishers and the various types of reports in their respective industries and are ready to provide research assistance. For more information, call Cindy Frei at 240.747.3014 or visit http://www.marketresearch.com
Follow us on Facebook http://www.facebook.com/marketresearchdotcom
Follow us on Twitter http://www.twitter.com/marketresearch_
Global Hypermarkets, Supermarkets and Hard-Discounters Market Size and Forecast to 2017 – Table of Contents:
1 Introduction
2 Global Hypermarkets, Supermarkets and Hard-Discounters – Overview
3 Asia-Pacific Hypermarkets, Supermarkets and Hard-Discounters – Overview
4 Europe Hypermarkets, Supermarkets and Hard-Discounters – Overview
5 Latin America Hypermarkets, Supermarkets and Hard-Discounters – Overview
6 Middle–East and Africa Hypermarkets, Supermarkets and Hard-Discounters – Overview
7 North America Hypermarkets, Supermarkets and Hard-Discounters – Overview
8 Appendix
List of Tables
Table 1: Exchange Rate (Annual Average), 2007–2012
Table 2: Exchange Rate (Annual Average), 2013–2017 (Forecasts)
Table 3: Canadean Retail Channel Definitions
Table 4: Canadean Retail Category Definitions
Table 5: Canadean Retail Country Coverage
Table 6: Global Hypermarkets, Supermarkets and Hard-Discounters Sales (USD billion), by Region, 2007–2017
Table 7: Global Hypermarkets, Supermarkets and Hard-Discounters Sales (USD billion), by Region, 2007 – 2012
Table 8: Global Hypermarkets, Supermarkets and Hard-Discounters Sales Forecasts (USD billion), by Region, 2012 – 2017
Table 9: Global Hypermarkets, Supermarkets and Hard-Discounters Sales (% Total Market), by Region, 2007 – 2012
Table 10: Global Hypermarkets, Supermarkets and Hard-Discounters sales Forecasts (% Total Market), by Region, 2012 – 2017
Table 11: Global Hypermarkets, Supermarkets and Hard-Discounters Share Of Retail Sales (% of Total Retail sales Within A Region), by Region, 2007 – 2012
Table 12: Global Hypermarkets, Supermarkets and Hard-Discounters Forecast Share Of Retail Sales (% of Total Retail sales Within A Region), by Region, 2012 – 2017
Table 13: Global Hypermarkets, Supermarkets and Hard-Discounters Sales (USD billion), by Product Groups, 2007–2017
Table 14: Global Hypermarkets, Supermarkets and Hard-Discounters Sales (USD billion) by Product Category, 2007 – 2012
Table 15: Global Hypermarkets, Supermarkets and Hard-Discounters Sales Forecasts (USD billion), by Product Category, 2012 – 2017
Table 16: Global Hypermarkets, Supermarkets and Hard-Discounters Sales (USD billion), by Apparel, Accessories, Luggage and Leather Goods Categories, 2007 – 2012
Table 17: Global Hypermarkets, Supermarkets and Hard-Discounters Sales (USD billion), by Apparel, Accessories, Luggage and Leather Goods Categories, 2012 – 2017
Table 18: Global Hypermarkets, Supermarkets and Hard-Discounters Sales (USD billion), by Book, News and Stationery Categories, 2007 – 2012
Table 19: Global Hypermarkets, Supermarkets and Hard-Discounters Sales (USD billion), by Book, News and Stationery Categories, 2012 – 2017
Table 20: Global Hypermarkets, Supermarkets and Hard-Discounters Sales (USD billion), by Electricals and Electronics Categories, 2007 – 2012
Table 21: Global Hypermarkets, Supermarkets and Hard-Discounters Sales (USD billion), by Electricals and Electronics Categories, 2012 – 2017
Table 22: Global Hypermarkets, Supermarkets and Hard-Discounters Sales (USD billion), by Food and Grocery Categories, 2007 – 2012
Table 23: Global Hypermarkets, Supermarkets and Hard-Discounters Sales (USD billion), by Food and Grocery Categories, 2012 – 2017
Table 24: Global Hypermarkets, Supermarkets and Hard-Discounters Sales (USD billion), by Furniture and Floor Coverings Category, 2007 – 2012
Table 25: Global Hypermarkets, Supermarkets and Hard-Discounters Sales (USD billion), by Furniture and Floor Coverings Category, 2012 – 2017
Table 26: Global Hypermarkets, Supermarkets and Hard-Discounters Sales (USD billion), by Home and Garden Products Category, 2007 – 2012
Table 27: Global Hypermarkets, Supermarkets and Hard-Discounters Sales (USD billion), by Home and Garden Products Category, 2012 – 2017
Table 28: Global Hypermarkets, Supermarkets and Hard-Discounters Sales (USD billion), by Music and Video and Entertainment Software Category, 2007 – 2012
Table 29: Global Hypermarkets, Supermarkets and Hard-Discounters Sales (USD billion), by Music and Video and Entertainment Software Category, 2012 – 2017
Table 30: Global Hypermarkets, Supermarkets and Hard-Discounters Sales (USD billion), by Sports and Leisure Equipment Category, 2007 – 2012
Table 31: Global Hypermarkets, Supermarkets and Hard-Discounters Sales (USD billion), by Sports and Leisure Equipment Category, 2012 – 2017
Table 32: Global Hypermarkets, Supermarkets and Hard-Discounters Sales (USD billion), Top 20 Countries, 2007 – 2012
Table 33: Global Hypermarkets, Supermarkets and Hard-Discounters Sales (USD billion), Top 20 Countries, 2012 – 2017
Table 34: Global Hypermarkets, Supermarkets and Hard-Discounters Sales (%), Top 20 Countries, 2007 – 2012
Table 35: Global Hypermarkets, Supermarkets and Hard-Discounters Sales (%), Top 20 Countries, 2012 – 2017
Table 36: Global Per Capita Spending in Hypermarkets, Supermarkets and Hard-Discounters (USD), by Region, 2007 – 2012
Table 37: Global Forecast Per Capita Spending in Hypermarkets, Supermarkets and Hard-Discounters (USD), ), by Region,2012 – 2017
Table 38: Global Per Capita Retail Spending (USD), by Product Groups, 2007 – 2012
Table 39: Global Per Capita Retail Spending (USD), by Product Groups, 2012 – 2017
Table 40: Global Per Capita Spend (USD), by Apparel, Accessories, Luggage and Leather Goods Category, 2007 – 2012
Table 41: Global Per Capita Spend (USD), by Apparel, Accessories, Luggage and Leather Goods Category, 2012 – 2017
Table 42: Global Per Capita Spend (USD), by Book, News and Stationery Category, 2007 – 2012
Table 43: Global Per Capita Spend (USD), by Book, News and Stationery Category, 2012 – 2017
Table 44: Global Per Capita Spend (USD), by Electricals and Electronics Category , 2007 – 2012
Table 45: Global Per Capita Spend (USD), by Electricals and Electronics Category, 2012 – 2017
Table 46: Global Per Capita Spend (USD), by Food and Grocery Category, 2007 – 2012
Table 47: Global Per Capita Spend (USD), by Food and Grocery Category, 2012 – 2017
Table 48: Global Per Capita Spend (USD), by Furniture and Floor Coverings Category, 2007 – 2012
Table 49: Global Per Capita Spend (USD), by Furniture and Floor Coverings Category, 2012 – 2017
Table 50: Global Per Capita Spend (USD), by Home and Garden Products Category, 2007 – 2012
Table 51: Global Per Capita Spend (USD), by Home and Garden Products Category, 2012 – 2017
Table 52: Global Per Capita Spend (USD), by Music and Video and Entertainment Software Category, 2007 – 2012
Table 53: Global Per Capita Spend (USD), by Music and Video and Entertainment Software Category, 2012 – 2017
Table 54: Global Per Capita Spend (USD), by Sports and Leisure Equipment Category, 2007 – 2012
Table 55: Global Per Capita Spend (USD), by Sports and Leisure Equipment Category, 2012 – 2017
Table 56: Per Capita Retail Spending (USD), by Country, 2007 – 2012
Table 57: Per Capita Retail Spending (USD), by Country, 2012 – 2017
Table 58: Fastest Growing Countries in Retail Sales (USD billion), by Country, 2007 – 2012
Table 59: Fastest Growing Countries in Retail Sales (USD billion), by Country, 2012 – 2017
Table 60: Fastest Growing Per Capita Retail Spending (USD), by Country, 2007 – 2012
Table 61: Fastest Growing Per Capita Retail Spending (USD), by Country, 2012 – 2017
Table 62: Fastest Growing Countries in Hypermarkets, Supermarkets and Hard-Discounters , by Sales, (USD billion)
Table 63: Fastest Growing Product Categories in Hypermarkets, Supermarkets and Hard-Discounters (USD billion) by Sales Growth, 2007 – 2012
Table 64: Fastest Growing Product Categories in Hypermarkets, Supermarkets and Hard-Discounters (USD billion) by Sales Growth, 2012 – 2017
Table 65: Asia-Pacific Hypermarkets, Supermarkets and Hard-Discounters Sales (USD million), by Country, 2007–2017
Table 66: Asia-Pacific Hypermarkets, Supermarkets and Hard-Discounters Sales (USD million), by Country, 2007 – 2012
Table 67: Asia-Pacific Hypermarkets, Supermarkets and Hard-Discounters Sales (USD million), by Country, 2012 – 2017
Table 68: Asia-Pacific Hypermarkets, Supermarkets and Hard-Discounters Sales (% Total Market), by Region, 2007 – 2012
Table 69: Asia-Pacific Hypermarkets, Supermarkets and Hard-Discounters Sales (% Total Market), by Region, 2012 – 2017
Table 70: Asia-Pacific Hypermarkets, Supermarkets and Hard-Discounters Share Of Retail Sales (% of Total Retail sales Within A Country), by Country, 2007 – 2012
Table 71: Asia-Pacific Hypermarkets, Supermarkets and Hard-Discounters Forecast Share Of Retail Sales (% of Total Retail sales Within A Country), by Country, 2012 – 2017
Table 72: Asia-Pacific Hypermarkets, Supermarkets and Hard-Discounters Sales (USD million), by Product Groups, 2007–2017
Table 73: Asia-Pacific Hypermarkets, Supermarkets and Hard-Discounters Sales (USD million) by Product Group, 2007 – 2012
Table 74: Asia-Pacific Hypermarkets, Supermarkets and Hard-Discounters Sales (USD million) by Product Group, 2012 – 2017
Table 75: Asia-Pacific Hypermarkets, Supermarkets and Hard-Discounters Sales (USD million), by Apparel, Accessories, Luggage and Leather Goods Categories, 2007 – 2012
Table 76: Asia-Pacific Hypermarkets, Supermarkets and Hard-Discounters Sales (USD million), by Apparel, Accessories, Luggage and Leather Goods Categories, 2012 – 2017
Table 77: Asia-Pacific Hypermarkets, Supermarkets and Hard-Discounters Sales (USD million), by Book, News and Stationery Categories, 2007 – 2012
Table 78: Asia-Pacific Hypermarkets, Supermarkets and Hard-Discounters Sales (USD million), by Book, News and Stationery Categories, 2012 – 2017
Table 79: Asia-Pacific Hypermarkets, Supermarkets and Hard-Discounters Sales (USD million), by Electricals and Electronics Categories, 2007 – 2012
Table 80: Asia-Pacific Hypermarkets, Supermarkets and Hard-Discounters Sales (USD million), by Electricals and Electronics Categories, 2012 – 2017
Table 81: Asia-Pacific Hypermarkets, Supermarkets and Hard-Discounters Sales (USD million), by Food and Grocery Categories, 2007 – 2012
Table 82: Asia-Pacific Hypermarkets, Supermarkets and Hard-Discounters Sales (USD million), by Food and Grocery Categories, 2012 – 2017
Table 83: Asia-Pacific Hypermarkets, Supermarkets and Hard-Discounters Sales (USD million), by Furniture and Floor Coverings Category, 2007 – 2012
Table 84: Asia-Pacific Hypermarkets, Supermarkets and Hard-Discounters Sales (USD million), by Furniture and Floor Coverings Category, 2012 – 2017
Table 85: Asia-Pacific Hypermarkets, Supermarkets and Hard-Discounters Sales (USD million), by Home and Garden Products Category, 2007 – 2012
Table 86: Asia-Pacific Hypermarkets, Supermarkets and Hard-Discounters Sales (USD million), by Home and Garden Products Category, 2012 – 2017
Table 87: Asia-Pacific Hypermarkets, Supermarkets and Hard-Discounters Sales (USD million) by Music and Video and Entertainment Software Categories, 2007 – 2012
Table 88: Asia-Pacific Hypermarkets, Supermarkets and Hard-Discounters Sales (USD million), by Music and Video and Entertainment Software Category, 2012 – 2017
Table 89: Asia-Pacific Hypermarkets, Supermarkets and Hard-Discounters Sales (USD million), by Sports and Leisure Equipment Category, 2007 – 2012
Table 90: Asia-Pacific Hypermarkets, Supermarkets and Hard-Discounters Sales (USD million), by Sports and Leisure Equipment Category, 2012 – 2017
Table 91: Asia-Pacific Hypermarkets, Supermarkets and Hard-Discounters Sales (USD million) by Country, 2007 – 2012
Table 92: Asia-Pacific Hypermarkets, Supermarkets and Hard-Discounters Sales (USD million) by Country, 2012 – 2017
Table 93: Asia-Pacific Hypermarkets, Supermarkets and Hard-Discounters Sales (%), by Leading Countries, 2007 – 2012
Table 94: Asia-Pacific Hypermarkets, Supermarkets and Hard-Discounters Sales (%), by Leading Countries, 2012 – 2017
Table 95: Asia-Pacific Per Capita Spending in Hypermarkets, Supermarkets and Hard-Discounters (USD), by Country, 2007 – 2012
Table 96: Asia-Pacific Forecast Per Capita Spending in Hypermarkets, Supermarkets and Hard-Discounters (USD), by Country, 2012 – 2017
Table 97: Asia-Pacific Per Capita Retail Spending (USD), by Product Groups, 2007 – 2012
Table 98: Asia-Pacific Per Capita Retail Spending (USD), by Product Groups, 2012 – 2017
Table 99: Asia-Pacific Per Capita Spend (USD), by Apparel, Accessories, Luggage and Leather Goods Category, 2007 – 2012
Table 100: Asia-Pacific Per Capita Spend (USD), by Apparel, Accessories, Luggage and Leather Goods Category, 2012 – 2017
Table 101: Asia-Pacific Per Capita Spend (USD), by Book, News and Stationery Category, 2007 – 2012
Table 102: Asia-Pacific Per Capita Spend (USD), by Book, News and Stationery Category, 2012 – 2017
Table 103: Asia-Pacific Per Capita Spend (USD), by Electricals and Electronics Category, 2007 – 2012
Table 104: Asia-Pacific Per Capita Spend (USD), by Electricals and Electronics Category, 2012 – 2017
Table 105: Asia-Pacific Per Capita Spend (USD), by Food and Grocery Category, 2007 – 2012
Table 106: Asia-Pacific Per Capita Spend (USD), by Food and Grocery Category, 2012 – 2017
Table 107: Asia-Pacific Per Capita Spend (USD), by Furniture and Floor Coverings Category, 2007 – 2012
Table 108: Asia-Pacific Per Capita Spend (USD), by Furniture and Floor Coverings Category, 2012 – 2017
Table 109: Asia-Pacific Per Capita Spend (USD), by Home and Garden Products Category, 2007 – 2012
Table 110: Asia-Pacific Per Capita Spend (USD), by Home and Garden Products Category, 2012 – 2017
Table 111: Asia-Pacific Per Capita Spend (USD), by Music and Video and Entertainment Software Category, 2007 – 2012
Table 112: Asia-Pacific Per Capita Spend (USD), by Music and Video and Entertainment Software Category, 2012 – 2017
Table 113: Asia-Pacific Per Capita Spend (USD), by Sports and Leisure Equipment Category, 2007 – 2012
Table 114: Asia-Pacific Per Capita Spend (USD), by Sports and Leisure Equipment Category, 2012 – 2017
Table 115: Asia Pacific Fastest Growing Countries in Retail Sales (USD million), by Country, 2007 – 2012
Table 116: Asia Pacific Fastest Growing Countries in Retail Sales (USD million), by Country, 2012 – 2017
Table 117: Asia Pacific Per Capita Retail Spending (USD), by Country, 2007 – 2012
Table 118: Asia Pacific Per Capita Retail Spending (USD), by Country, 2012 – 2017
Table 119: Asia Pacific Top 5 Fastest Growing Product Categories in Hypermarkets, Supermarkets and Hard-Discounters (USD million) by Sales Growth, 2007 – 2012
Table 120: Asia Pacific Top 5 Fastest Growing Product Categories in Hypermarkets, Supermarkets and Hard-Discounters (USD million) by Sales Growth, 2012 – 2017
Table 121: Europe Hypermarkets, Supermarkets and Hard-Discounters Sales (USD million), by Country, 2007–2017
Table 122: Europe Hypermarkets, Supermarkets and Hard-Discounters Sales (USD million), by Country, 2007 – 2012
Table 123: Europe Hypermarkets, Supermarkets and Hard-Discounters Sales (USD million), by Country, 2012 – 2017
Table 124: Europe Hypermarkets, Supermarkets and Hard-Discounters Sales (% Total Market), by Region, 2007 – 2012
Table 125: Europe Hypermarkets, Supermarkets and Hard-Discounters Sales (% Total Market), by Region, 2012 – 2017