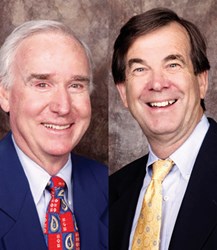 We also enjoy sharing these skills with our clients & empowering them.
San Diego, CA (PRWEB) September 10, 2013
"Scott & Bob are not just ahead of the curve. They are the curve!" said Paula & Scott Benson after selling their home with Scott Peck & Bob Griswold.
So what are the secrets of the #1 real estate agents in Solana Beach & the #2 agents among all agents in Real Living Lifestyles?
Scott Peck: "There are many secrets to our success," says Scott, "but the first secret is that you can only have one bottom line - & our bottom line is what is right for our clients. We've even talked clients out of buying a home that we knew wasn't right for them. And we don't let sellers accept an offer that isn't right."
Adds Bob, "We live by this principle every moment of every day. That's why we have such loyal clients. Most become good friends."
Here's another secret: "Today's real estate buyers & sellers are amazingly savvy," says Scott. "It's not unusual for a client to know more than an agent these days because there are so many real estate tools for mobile phones & so much property information on the web. We laughingly say this, but our private goal is stay at least one year ahead of our competition in the tech arena. We use the latest ipad (actually ipad mini) & iphone because we are always pushing the boundaries."
Bob Griswold: Adds Bob, "ALL our client information is stored in Google drive so we can access every contract, every brochure, & all property info with a few clicks on our ipad mini or iphone anywhere we are. That makes our lives enormously more productive & our clients get instant information. We also enjoy sharing these skills with our clients & empowering them."
These secrets, however, don't really get to the heart of Scott & Bob's enormous success. This year, they are more than 400% ahead of any other agent in sales of homes in Solana Beach. That's four times more sales than their nearest competitor. But to Scott & Bob, it's not about numbers. In fact, it's not even about homes or condos.
"Our expertise & joy is in moving lives forward," says Scott. "People are downsizing. Lives are restructuring. Relationships are changing. Seniors are relocating. Young couples are buying for the first time. New people are moving to San Diego. That's what's really happening beneath the surface in every real estate sale & why we stay focused on the main event - Moving Lives Forward!"
"That's the real reason why clients love us so much," says Bob. "Yes, they want their home sold, & at the highest possible price, or they want to buy the right property, but there's something much deeper going on beneath the surface."
Steve Rodgers, CEO/President of Real Living Lifestyles, knows intimately what makes these guys tick. Scott & Bob have worked for Steve for almost 15 years. Says Steve, "As the President of Real Living Lifestyles, with almost 400 agents, I'm constantly amazed by Scott & Bob. Not only are they our top agents, but they continue to set the bar higher. They are the #1 agents in Solana Beach, but it's "why" they are #1 that is so revealing. Scott & Bob work at a level much deeper than just selling properties. They have amazing marketing & negotiating talent, but they also serve their clients with enormous compassion. Their motto "Moving Lives Forward!" defines them. I wish I could hire 400 more of these guys."
Scott & Bob send a monthly 4-page real estate "Briefing" to most Solana Beach home owners & the same "eBriefing" to people who want to receive it electronically. "This briefing is a fabulous tool for us as well as those who receive it," says Scott, "because it brings intense focus & insight to this exact moment in Solana Beach & coastal North County real estate.
"I'm also passionate about photography," adds Scott, "so I get to showcase a large new cover photo each month that captures the beauty around us."
Adds Bob, "We also include loads of charts – that we create ourselves - that show what's happening to prices in various Solana Beach communities. This is how we ourselves stay intimately connected to the market."
To contact Scott, call 858-967- 2604. To contact Bob, call 858-967-2608. "It doesn't matter who you call," says Scott. "We've been real estate partners for over 15 years & clients often call us by each other's name. We laugh. So do they."
"We also have a ton of information for sellers & buyers on our website: Scott & Bob" says Bob, "including what our past clients think of us & the ability to search for properties in the Multiple Listing Service just the way we do.
Real Living Real Estate is a network brand of HSF Affiliates LLC, which is majority owned by HomeServices of America, Inc.TM, a Berkshire Hathaway affiliate.