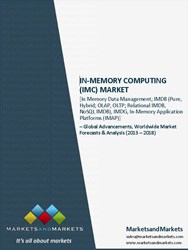 Rockville, MD (PRWEB) September 12, 2013
In-Memory Computing (IMC) Market - Global Advancements, Worldwide Market Forecasts and Analysis (2013-2018)
As the industry is witnessing a sharp rise in transactional and analytical requirements for voluminous big data, In-Memory Computing solutions are fast in finding a place in almost every database warehousing and analytics application. Traditional disk-based systems do have storage capabilities but when it comes to faster analysis of data, traditional disk-based systems lag behind. Apart from processing speed, disk-based systems require a lot of physical space to store massive volume of data. Under such circumstances, when enterprise data is growing to the level of terabytes and petabytes, data management becomes very difficult. Apart from voluminous data, requirements for massive parallel processing has increased which has further increased the demand for technologies with higher processing speed.
Although In-Memory Computing, as a concept, was introduced in the late twentieth century, its adoption has been slow, owing to the high cost of the main-memory – Dynamic Random Access Memory (DRAM). IMC provides enhanced features such as reduced latency level and provision of real-time data on demand. Major vendors in the IMC market space include SAP, Oracle, IBM, Altibase, Qliktech, while companies such as GridGain, ScaleOut Software, Exasol, Software AG have also emerged as key innovators in this space. This report analyzes market dynamics, future roadmaps and global trends, and provides forecast over the next five years.
This report is broadly segmented into sub-markets including: In-Memory Data Management (IMDM) and In-Memory Application Platforms (IMAP). IMDM further includes In-Memory Database (IMDB) and In-Memory Data Grid (IMDG). In-Memory Database (IMDB) is further segmented on the basis of type: pure, hybrid; on the basis of solution: Online Analytical Processing (OLAP), Online Transaction Processing (OLTP); and on the basis of product: relational and NoSQL-based. The IMC market is also segmented on the basis of verticals: banking and financial services, retail, telecommunication, defense and military, logistics, energy, power and utilities, online entertainment and others; by end-users: SMEs and enterprises; by regions: North America (NA), Asia Pacific (APAC), Europe (EU), Middle East and Africa (MEA), and Latin America (LA).
To order this report:
In-Memory Computing (IMC) Market (In Memory Data Management, IMDB (Pure, Hybrid, OLAP, OLTP, Relational IMDB, NoSQL IMDB), IMDG, In-Memory Application Platforms (IMAP)) - Global Advancements, Worldwide Market Forecasts and Analysis (2013-2018)
Contact: Shauna
800.298.5699
Customerservice(at)marketresearch(dot)com
About MarketsandMarkets
The MarketsandMarkets edge: Worldwide, market research reports are primarily sold for numbers, market segmentation and competitive landscape, within the business leaders.
The analysts working with MarketsandMarkets come from the renowned publishing houses and market research firms globally adding their expertise and domain understanding. We get the facts from over 22,000 news and information sources, a database of hundred thousands of key industry participants and draw on our relationship with more than 900 market research companies globally.
In course of our ongoing relationship with research partners for over a period of three years, our clients have discovered that we can not only head-start any given research project immediately but also execute it in a stipulated time frame. We always prioritize our commitments of confidentiality. The fact that a high percentage of our business comes from client referrals bears ample testimony to the quality of our market research reports.
About MarketResearch.com
MarketResearch.com is the leading provider of global market intelligence products and services. With research reports from more than 720 top consulting and advisory firms, MarketResearch.com offers instant online access to the world's most extensive database of expert insights on global industries, companies, products, and trends. Moreover, MarketResearch.com's Research Specialists have in-depth knowledge of the publishers and the various types of reports in their respective industries and are ready to provide research assistance. For more information, call Cindy Frei at 240.747.3014 or visit http://www.marketresearch.com
Follow us on Facebook http://www.facebook.com/marketresearchdotcom
Follow us on Twitter http://www.twitter.com/marketresearch_
In-Memory Computing (IMC) Market [In Memory Data Management, IMDB (Pure, Hybrid, OLAP, OLTP, Relational IMDB, NoSQL IMDB), IMDG, In-Memory Application Platforms (IMAP)] - Global Advancements, Worldwide Market Forecasts and Analysis (2013-2018) – Table of Contents:
1 Introduction
2 Executive Summary
3 In Memory Computing: Market Ecosystem And Dynamics
3.1 Market Ecosystem
3.1.1 Mapping Trends
3.1.1.1 High Throughput Processors
3.1.1.2 Increase In Processor Cores
3.1.1.3 Fast Adoption In Mid And Large Size Enterprises
3.1.1.4 New Data Compression Algorithms
3.1.1.5 Hybrid Databases
3.1.1.6 Column-centric Databases
3.1.1.7 Data Protection Tools
3.1.2 Market Players And Roles
3.2 Market Dynamics
3.2.1 Drivers
3.2.1.1 Big Data
3.2.1.2 Parallel Computing
3.2.1.3 Rising Need For Predictive Analysis And Simulation
3.2.1.4 Increasing Cost For Facilities
3.2.1.5 Need For Operational Efficiency
3.2.2 Restraints And Challenges
3.2.2.1 Lack Of Standards
3.2.2.2 Migration From Traditional To In-memory Computing Compliant Hardware
3.2.2.3 Low Level Of Data Security
3.2.3 Opportunities
3.2.3.1 Acquisition Of Pure Play Vendors
3.2.3.2 64-bit Computing
3.2.3.3 Big Data
3.2.4 Time Impact Analysis Of Dynamics
4 In-memory Computing: Market Size And Forecast, By In-memory Data Management (Imdm)
5 In-memory Computing: Market Size And Forecast, By In-memory Application Platforms
6 In-memory Computing : Market Size And Forecast, By End Users
7 In-memory Computing: Market Size And Forecast, By Regions
8 In Memory Computing: Market Analysis, Trends And Insights
8.1 Market Evolution
8.1.1 Market Uptake And Disruption
8.1.2 Lifecycle And Chasm Plots
8.2 Business Case Analysis
8.2.1 Go To Market Strategy
8.3 Opportunity Analysis And Roadmaps
8.3.1 Future Business Models
8.3.1.1 Complex Event Processing
8.3.1.2 High Performance Messaging
8.3.1.3 Big Data
8.3.2 Opportunity Plots
8.3.3 Adoption Roadmaps
9 Competitive Landscape
10 Company Profiles
List Of Tables
List Of Figures