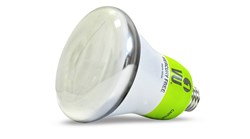 New York City (PRWEB) September 05, 2013
Vu1 Corporation, a U.S. developer of mercury-free light bulbs, will present at the SeeThruEquity Fall Investor Conference, to be held at New York Penn Club in New York City on September 12, 2013.
Vu1's Chairman and Chief Executive Officer William B. Smith is scheduled to present on Thursday, September 12 at 9:00 a.m. ET and will present an overview of Vu1's business and proprietary Electron Stimulated Luminescence™ (ESL) technology to investors.
About SeeThruEquity, LLC SeeThruEquity, LLC is a leading investment research and corporate access firm that produces high quality research reports on smallcap and microcap companies with less than $1 billion in market capitalization. The research is unbiased and is not paid-for research. For more information on SeeThruEquity, LLC visit http://www.seethruequity.com.
About Vu1
Vu1 ("view one") Corporation is setting the new global standard for safe, sustainable, energy-efficient lighting. The company designs, develops and sells mercury-free lighting products using its proprietary Electron Stimulated Luminescence™ (ESL) technology. Vu1 is transforming the lighting industry while helping to protect the environment by accelerating innovation and the adoption of next generation energy-efficient lighting. (http://www.vu1corporation.com)