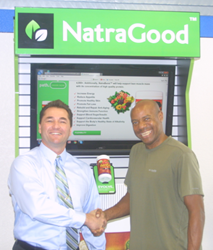 Mike embodies the NatraGood philosophy where good nutrition is essential for a healthy, active life, not only for professional athletes but the man and woman on the street too
(PRWEB) September 06, 2013
Long jump World Record holder, Mike Powell, has leaped into a sponsorship deal with the nationwide nutrition company NatraGood™.
NatraGood™, based in Florida, manufactures and distributes natural health products nationwide including NatraLean and Natraburst.
Powell, who turns 50 in November, broke Bob Beamon's long standing record by out-leaping Carl Lewis with a jump of 29' 4 ½" in 1991. After 22 years this record still stands as one of the longest held, and most revered records in any sport.
"NatraGood™ will become Mike Powell's official nutrition partner. He is extremely popular and with him we look forward to extending our name brand recognition, not only in Track and Field but other sports," states Jim Christie, President of NatraGood™.
.
"Mike embodies the NatraGood philosophy where good nutrition is essential for a healthy, active life, not only for professional athletes but the man and woman on the street too. Through Mike not only will our products be exposed to current athletes, but because his age, we will see recognition from spectators too."
Powell comments, "I still coach athletes of all abilities from around the world. Some of these athletes are future Olympians and others looking to break my World Record. It is important to me and progress of the athlete that I actually demonstrate techniques that I am coaching."
"To do this at my age, I have to stay physically healthy and pay particular attention to my personal nutrition program and the NatraGood™ line of products helps with that. This sponsorship is a natural blend."
Monetary aspects of the 2-year deal brokered by About Successful Marketing Inc. were not disclosed. The sponsorship does include website cross promotion, personal appearances and global publicity rights, product and logo exposure through multiple athletic events.
Christie concludes, "Mike is, arguably, one of the most iconic athletes ever in Track and Field. We are very fortunate that he was available for sponsorship in our product category. The fact that he is already highly visible can only draw more attention to NatraGood and our products. We have seen Mike's plan for the next two years and it is extremely exciting. The potential for both Mike and NatraGood™ is huge."
About Mike Powell
At the 1991 World Championships in Tokyo Mike Powell broke Bob Beamon's 23-year-old long jump world record by 5 cm (2 inches), leaping 8.95 m (29 ft 4½ in) ahead of long-time nemesis, Carl Lewis. This is still the world record and stands as one of the longest running in any sport. He also holds the record for longest non-legal jump of 8.99m set in 1992.
In 1988 and 1992 Powell competed in the Olympics winning Silver medals behind Carl Lewis on both occasions.
He still travels the country and world as a motivational speaker and Ambassador for the International Association of Athletics Federation (IAAF), the world governing body for track and field and coaches out of the Academy of Speed in Rancho Cucamonga, Ca.
For more information about Mike Powell please go to http://www.MikePowellLongJump.com
About NatraGood™
NatraGood™ based in Florida, manufactures and distributes natural health products nationwide including NatraLean and Natraburst and is a feel good health and wellness company focused on promoting an Epidemic of Good Health for people from 1 to 101. They believe achieving optimal health should be a simple and accessible transition for everyone. Their mission is to inspire and empower individuals to take responsibility for their own health and wellbeing can start with proven, high absorption, enzyme and nutrient rich family of NatraGood™ products.
For more information about NatraGood™ please go to http://www.NatraGood.com