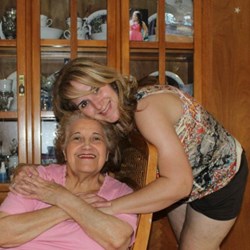 To me, being a caregiver is about passion, love, caring, and being selfless.
Chicago, IL (PRWEB) September 09, 2013
Senior caregivers posted photos to the first-ever Caregiverlist caregiving jobs photo contest on Facebook this summer. The top 3 voted photos submitted of caregivers with those for whom they care are the winners of Amazon gift cards. Runner-ups receive free t-shirts.
Caregiverlist, the nation's premier online career center for professional senior caregivers, announces the winners of its summer photo contest highlighting senior caregivers and the seniors in their care. Professional senior caregivers turn to Caregiverlist for career advice, caregiver training and employment, and this summer photo contest showcases the valued services senior caregivers provide.
Caregivers, Certified Nursing Aides, and Certified Home Health Aides submitted a photo of themselves with their senior client to the Caregiverlist Summer Photo Contest for Senior Caregivers. The contest began Monday, July 8, 2013 and was hosted on the Caregiverlist Facebook page. Voting closed on August 31, 2013.
Contest winners were chosen based on popularity via voting. Caregiverlist offered $100, $50 and $25 Amazon gift cards to the top 3 voted pictures and free t-shirts to the runners-up.

First place winner is Christi M. with her submission, "Clary + I" with 877 votes. She will receive a $100 Amazon gift card.
Edward Hatfield was a close second with 848 votes for his photo submission, "Our Wedding Day." Edward will receive a $50 Amazon gift certificate.
Third prize winner of a $25 Amazon gift card is Caitlin Villasenor, whose untitled photo shows multi-generational caregiving and received 420 votes.
Senior caregivers provide emotional support and socialization for seniors, enabling many families to continue to support grandparents and parents with quality care in their home. Adult children often do not live in the same city as their aging parents which means caregiving often becomes much more than a job for senior caregivers.
You can see all the submitted photos on Facebook, along with their vote totals here.
Caregivers perform the essential job functions for their senior clients—from seniors who need 24-hour care to those in nursing facilities. Working as a professional caregiver provides employee benefits along with a fulfilling career.
Certified Nursing Aids continue to be in high demand. Long-term care insurance companies often require senior caregivers in the home o also be certified as a nursing assistant. Becoming a certified nursing aide, or C.N.A., will guarantee ongoing employment and begin a career in the senior care industry.
Apply for caregiving, C.N.A., and C.H.H.A. jobs at Caregiverlist.com. It only takes 5 minutes to fill out an application. Senior care companies nationwide hire now part-time, full-time and live-in staff weekly from Caregiverlist. Refer-a-Friend to Caregiverlist and be entered to win a free t-shirt or $50 gift card.
Caregiver Training is crucial to providing professional care. Caregiverlist offers a 10-hour online orientation training course that meets most states' requirements and was created by members of the senior care industry's national association.
Caregiverlist congratulates all those who submitted photos of themselves with the seniors in their care.
About Caregiverlist
Caregiverlist.com is the nation's online destination dedicated to connecting seniors with quality senior care choices. Caregiverlist.com helps seniors and their loved ones define care needs, understand the many caregiving options and costs and connect to senior home care agencies that meet Caregiverlist.com's checklist of quality standards. Caregiverlist.com is also a leading caregiving career and recruitment resource. Visit http://www.Caregiverlist.com.