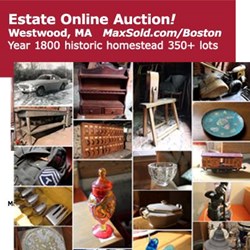 This Victorian farm house has 60 years of niche Scandinavian pieces with unusual and interesting items. - Barry Gordon, MaxSold Founder
Westwood, MA (PRWEB) September 06, 2013
MaxSold, maxsold.com, auction debuts in the Greater Boston Area, Massachusetts, with an auction in Westwood, MA http://www.maxsold.com/Boston
An innovative 'hybrid' online auction method is being employed to clear a multi-kin 1800s farmhouse which has over 350 lots of highly collectible items. "This Victorian farm house has 60 years of niche Scandinavian pieces with unusual and interesting items." says auctioneer and MaxSold founder Barry Gordon.
Items up for auction include sterling silver, crystal and glass, antique furniture, gas lighting, glass negatives, original artworks, collectibles, and hundreds of other interesting items, many of which were in storage and have not been seen for decades. The auction even includes a Volvo P1800, one owner standard shift 2 door coupe!
The MaxSold hyperlocal approach of bidding online for goods close to home allows buyers to attend an optional viewing day onsite, and pick up their winnings after the auction closes during the pickup period.
MaxSold sends an experienced team to the house to photograph and catalog everything, and supervise the auction process from end-to-end. The company collaborates closely senior services companies such as Lifecycle which has served the Boston area since 1990. "The MaxSold auction method brings unprecedented transparency that many geographically fragmented senior client families and attorneys we serve need." says Jason Suderman of Lifecycle, who has partnered with MaxSold.
MaxSold's benefits include savings in thousands in packing, moving, third party removal of unwanted and bulky items, onsite auction staging and more.
The community is invited to the optional preview on Saturday, September 7th, between 1 pm and 5 pm to 48 Milk St, Westwood to inspect the items that are up for online bidding. Online bidding closes Thursday, September 12 12:00 Noon.
Infographic case study: http://budurl.com/maxinfo
Available Topic Expert(s): For information on the listed expert(s), click appropriate link.
Barry Gordon, MaxSold
https://profnet.prnewswire.com/Subscriber/ExpertProfile.aspx?ei=112031
Sushee Perumal, MaxSold
https://profnet.prnewswire.com/Subscriber/ExpertProfile.aspx?ei=111905