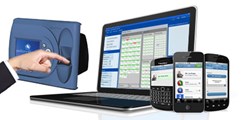 Advance Systems analysts and developers constantly keep ahead of the latest developments in monitoring advances that can be applied in the workplace.
Boston, MA September 8, 2013 (PRWEB) September 08, 2013
The absence management component is a fully integrated product of Advance Systems workforce management product line. The enhanced absence management software allows companies to track employee absences easily and reduces unnecessary communication and paper recording.
Automated Attendance Policies are used in the Advance Systems Time & Attendance system. The company can set up an unlimited number of codes to represent particular categories of employee absences, for example planned or unplanned sick leave, vacation and Family Medical Leave (FMLA). All categories are tracked and analyzed. The system also transmits a warning by email if an employee absence violates company policy. The system also generates notices to employees if they are close to the end of their allotted leave, helping prevent leave policy violations.
Paid Time Off Software is a component that can be set up to provide the complete array of leave that a company offers its employees. It has been estimated that companies unknowingly pay a median of 1.25 extra days of paid leave per employee per year. This system prevents that overage. Employees and managers can determine each individual's record that is contained in the absence tracking system.
Leave Management is a component that has a unique self-service feature that allows employees to access their own absence profile and their team's group absence profile. Their page shows how much leave in all categories to which the employee(s) is entitled. To request time off, the employee enters a request on their specific page. The appropriate manager can then approve or deny the request within the same system using tools within the system to assist with the decision making process.
Absence Exceptions are automatically tracked and flagged for action by an appropriate authority. For example, if an employee goes outside their set hours or if an absence code has been altered, the proceedings will be sent to the proper manager. If that manager is not working at the time, the flag will be transported to the next listed authorized officer. The system ensures that all anomalies will be dealt with immediately. Dual authorization is also a possibility if required.
Advance Systems is a provider of Employee Management Systems in the USA. For 20 years, they have provided automated time and attendance solutions for all types of both profit and non-profit organizations. Click here to review a selection of their clients. Their analysts and developers constantly keep ahead of the latest developments in monitoring advances that can be applied in the workplace.
The team of experts at Advance Systems is happy to show you how their automated absence tracking systems, which can save both time and money, can meet your organization's specific needs.
Advance Systems
121 Mount Vernon Street,
Boston, MA 02108
Call Toll Free: (888) 765-8466
Email: info(at)advancesystemsinc(dot)com
Web: http://www.advancesystemsinc.com