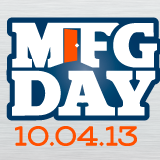 Rockford, IL (PRWEB) September 10, 2013
This Sunday, September 15, the Penske Racing No. 22 Shell-Pennzoil Ford Fusion race car deck lid will feature the Manufacturing Day "MFG DAY" logo in the GEICO 400 race at the Chicagoland Speedway in Joliet, Ill. The first race of the 10th annual Chase for the Sprint Cup, which is NASCAR's version of the playoffs, will start at 2 PM Eastern and will be broadcast live on ESPN and the Motor Racing Network (MRN) radio station.
The No. 22 car deck lid is typically reserved for Shell and Pennzoil brands, which are periodically replaced with logos for initiatives that Shell and/or Pennzoil support. This year, Shell is a Gold Sponsor of Manufacturing Day, a grassroots effort by U.S. manufacturers to improve public perception of manufacturing in America by coordinating awareness-raising activities at a variety of locations across the country on October 4, 2013.
"We are thrilled to be able to leverage our racing assets to benefit Manufacturing Day and continue to build awareness of this important initiative," said Jacqueline Gates, Industrial Marketing Manager at Shell. "Manufacturing is a vital component of our own business, and we want to encourage every American to learn more about the importance of manufacturing in the United States."
Manufacturing Day is an annual national event that brings together hundreds of manufacturers to host students, teachers, parents, job seekers and other local community members at open houses designed to showcase modern manufacturing technology and careers. A panel of co-producers comprised of the Fabricators & Manufacturers Association, International (FMA), the National Association of Manufacturers (NAM), the Manufacturing Institute (MI), the National Institute of Standards and Technology's (NIST) Hollings Manufacturing Extension Partnership (MEP), and Industrial Strength Marketing (ISM) provides the centralized support necessary to coordinate this nationwide array of simultaneous events.
To learn more about Manufacturing Day, visit http://www.mfgday.com.
For more information about each of the co-producers, please contact:
Fabricators & Manufacturers Association, Intl.
Patricia Lee
Director of Marketing
(815) 227-8286
patl(at)fmanet(dot)org
National Institute of Standards & Technology
Jennifer Huergo
Director of Media Relations
(301) 975-6343
jennifer.huergo(at)nist(dot)gov
National Association of Manufacturers and
The Manufacturing Institute
Matt Lavoie
Senior Director of Media Relations, Communications
(202) 637-3085
mlavoie(at)nam(dot)org
Industrial Strength Marketing
Joey Strawn
Search & Social Director
(866) 529-8908
jstrawn(at)marketstrong(dot)net