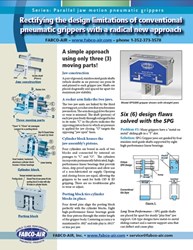 Gainesville, FL (PRWEB) September 17, 2013
Fabco-Air SPG Series pneumatic grippers are a revolutionized approach from conventional gripper design. New White paper illuminates solutions to seven (7) typical design flaws hindering performance of conventional pneumatic grippers. Various design comparisons are presented with exploded-view diagrams and close-up photos.
White paper explores:

Simplified ways to attach tooling to gripper jaws
Attaching grippers to actuator arms
Verifying parts size
Verifying parts presence, and more.
For more information contact FABCO-AIR.
About Fabco-Air
Fabco-Air was founded in 1958 by Alfred W. Schmidt in Cleveland, Ohio. Known for its many fluid power innovations like the Pancake® Cylinder, Fabco-Air has operations now housed in 61,000 sq. ft. in Gainesville, Florida. Their 24/7 lights out precision machining centers drive production, assure product quality and enable reliable delivery. The company has a dedicated workforce of 75 people whose average length of employment is more than 17 years. The key marketing contact is Scot LaMar, Vice President.