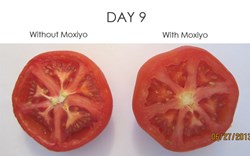 Moxiyo Fresh Packs work by removing the oxygen that cause the growth of spoilage bacteria and preserves perishable foods so they stay fresh longer.
Salt Lake City, Utah (PRWEB) September 09, 2013
Moxiyo LLC., makers of proprietary Moxiyo Oxygen Absorbers, announced today that after several months of production their much anticipated 3 pack of Moxiyo Fresh Packs, specifically packaged for home refrigeration, is now available for purchase. Moxiyo Fresh Packs are the first safe and natural way to extend the life of perishable foods up to an additional 30 days. Extending the freshness and reducing food spoilage can amount to huge savings in grocery bills.
Invented by Pete Fuller, former NASA scientist, Moxiyo is an all-natural product made from a proprietary natural crystalized mineral. Moxiyo produces carbon dioxide gas (CO2), an inert gas known to have bacteriostatic properties. CO2 "wraps" itself around perishable foods creating an envelope that preserves and extends food freshness.
"Moxiyo Fresh Packs work by removing the oxygen that cause the growth of spoilage bacteria and preserves perishable foods so they stay fresh longer," said Judy Moon Bell, CEO of Moxiyo. "The oxygen is replaced with a natural, atmospheric carbon dioxide gas that's produced by the Moxiyo natural food grade product. Carbon dioxide gas is the primary component plants need for tissue construction, and when we create that same atmospheric environment for your perishable products, they will continue to flourish and your food will last longer."
Backed by controlled studies, including Utah State University, Macey's grocery store chain and independent lab results, Moxiyo has been proven to preserve and extend the life of perishable foods. "The ability for consumers to maintain and preserve meats and produce is important not only for the family budget, but in also maintaining health and wellness because fresh foods will now last longer." Ms. Bell added, "Think of all the savings you'll have by not throwing away expensive meats, cheeses, fruits and vegetables."
Moxiyo Fresh Packs for home use will be sold in a three pack for $10.99 suggested retail and includes free shipping within the United States. Each three pack contains a one-month supply which is placed in the household refrigerator. Moxiyo Fresh Packs are perfect for everyone, including families, those who travel, retirees and students. Moxiyo Fresh Packs are available online at Moxiyo.com, and will soon be available at local retail grocery stores.
Product Information:
Name: Moxiyo Fresh Pack
Type: Home Use Food Refrigeration
Size: 3 Pack, 2" x 1.75"
Sugg. Retail Price: $10.99 for a 3 Pack (Free Shipping in USA)
Producer: Moxiyo, LLC.
Advantages:

Keeps refrigerated food fresh up to 30 additional days
Prevents growth of aerobic pathogens and spoilage organisms, including yeasts and molds
Improves the air quality, air flow and circulation inside refrigerators
Reduces the risk of cross contamination among foods
Reduces offensive odors
Lowers and maintains the refrigerator temperature when being repeatedly opened and closed
About Moxiyo, LLC:
Moxiyo LLC. Manufactures and markets Moxiyo brand products including Moxiyo Fresh Packs for home refrigerator usage. Moxiyo Mega Packs for institutional usages including food growers, food transportation, food manufacturing facilities, food warehousing and food retailers. Moxiyo Oxygen Absorbers are used for packaged products such as: jerky, dried fruit, fresh tortillas, food storage, pharmaceuticals and more. Moxiyo is approved by the USDA and is on the GRAS List (Generally Recognized as Safe). Moxiyo is US Patent Pending.
Contact Moxiyo, LLC:
Judy Moon Bell – CEO Moxiyo, LLC.
Tel: 801-718-6060