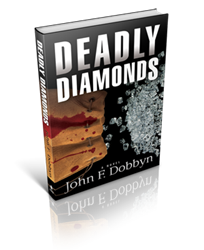 'Deadly Diamonds takes you from mob strongholds in Boston to the diamond pits of Sierra Leone, in a plot twisty enough to leave skid marks on the page. A great read!' - Lisa Scottoline, New York Times Best-Selling Author of Don't Go and Accused
Longboat Key, FL (PRWEB) September 06, 2013
Deadly Diamonds by John F. Dobbyn is now available in hardcover (ISBN: 978-1-60809-092-1, Thriller, List Retail $26.95) and all digital / e-book formats (ISBN: 978-1-60809-023-5, List Retail $14.95).
Oceanview Publishing provided this synopsis:
"What do Boston, Dublin, and Sierra Leone have in common? The movement of "blood diamonds" at enormous profit but grave human expense: mafia killings in Boston and Ireland and child enslavement and murder in Sierra Leone. And who is ensnared in the middle of all of this — Michael Knight and Lex Devlin. Can they stop the enormously profitable trade of these tainted jewels? They must come between the Italian mafia in the North End of Boston and the Irish mafia in South Boston including some remnants of the IRA in Ireland. They must also pit themselves against the enslaved and deadly child-army in Sierra Leone, who smuggle these diamonds into the mainstream for cash to buy weapons and drugs. At great personal risk, Knight and Devlin struggle to find a solution that satisfies this disparate combination of characters and, hopefully, dampens the diamond flow."
The Buzz:
"…fast-paced drama, which stretches from Boston's North End and South End to Ireland and to Sierra Leone..."
—Publishers Weekly
"Dobbyn manages to tie the two story lines together in a secure knot in this fiercely violent story that somehow also tugs at the heartstrings. This should appeal to fans of Tess Gerritsen, Jon Land, and Dennis Lehane."
—Booklist
"…Dobbyn's Deadly Diamonds is a Beantown beauty of a story, sometimes served with a Guinness and at other times with a Chianti, depending on which of the many warring, sleazebag mobsters Dobbyn's lead character is confronting."
"Deadly Diamonds is an exciting, well-written, colorful, and thoroughly delightful gangster story, one fit to sit on a shelf between the works of Breslin and Puzo."
—ForeWord Reviews
"…the story is so fast you better not blink for fear you will miss something. This is such a fantastic book that really slams the diamond mine owners and tells it like it is."
—BestSellersWorld.com, MysteriesGalore.com
About the Author:
John F. Dobbyn is a professor of law at Villanova Law School. He has had twenty-seven short stories published by Ellery Queen's Mystery Magazine and Alfred Hitchcock's Mystery Magazine, and he is the author of four legal thrillers featuring Michael Knight and Lex Devlin.
Dobbyn is a Boston native and now resides in Valley Forge, Pennsylvania, with his wife Lois.
deadly Diamonds is distributed through Midpoint Trade Books, Baker & Taylor, Ingram, Overdrive, and other national distributors. Deadly Diamonds is available for purchase through all fine booksellers.