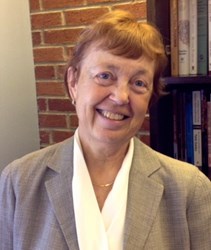 "We are in the business of wiping out the hopelessness that accompanies mental health challenges."
Omaha, NE (PRWEB) September 09, 2013
The 39th annual National Suicide Prevention week is September 8th-14th. Founder of Fresh Hope, Pastor Brad Hoefs, says that this is the perfect time to kick off their national campaign against the hopelessness that all too often accompanies mental disorders and illnesses. Part of this national campaign is the announcement that Mrs. Diana Waggoner will serve as the National Program Director for Fresh Hope.
Mrs. Waggoner will be responsible for developing group and training resources, facilitator training and the ongoing development of Fresh Hope as a national organization.
Diana comes to Fresh Hope from the Kim Foundation. She was the Executive Director of the Kim Foundation for the past 12 years. While at the Kim Foundation, Diana was also the voice of the foundation's seven-year radio program, "Not Alone." In 2012 Diana received the Recovery Is Real Media Award. She has served for 5 years on the Mental Health Advisory Committee to the Governor for the State of Nebraska.
"Fresh Hope groups have begun in other communities in Nebraska and in other states. Weekly, we have contacts from around the nation from individuals and ministries wanting to start Fresh Hope groups in their communities. Recently, we had a request from South Africa. Having Diana on staff full time will enable us to meet those requests as Fresh Hope organically develops on a national level," says Brad Hoefs, Founder and Executive Director of Fresh Hope. "Diana comes to us with the very experience needed in developing both group leaders and materials. Her knowledge of the mental health field is incredible. Plus, her people skills are exceptional."
"Working with Fresh Hope is exciting and challenging. People experiencing mental health difficulties are courageous people; many are seeking the unique hope and healing opportunities that faith-based peer support offers. Fresh Hope truly is a fresh perspective on mood disorders, and an invitation for families and individuals to be strengthened by faith in their Creator and to encourage one another as they seek a life of wellness," says Mrs. Waggoner.
According to Hoefs, "When we started Fresh Hope four years ago, we envisioned it as a single faith-based support group for those who had mood disorders and their loved ones. Now here we are, four years later, with numerous groups in various states and requests to start groups in more states. It confirms the need for faith-based support groups for those who face mental health challenges. There is really nothing else 'out there' like Fresh Hope. People are looking for hope. Hope keeps us going when facing mental health challenges."
Hoefs says that the addition of Diana Waggoner to the Fresh Hope staff is the beginning of Fresh Hope's national campaign to stomp out the hopelessness that all too often accompanies mental health challenges. Hoefs says that part of this campaign will include short videos that he calls "Stigma Busters" scheduled to be released in early 2014.
Recently the New York Times and the Wall Street Journal, each noted the new CDC statistics regarding suicide. "The number of suicides in a year rose 31% to 38,364 in 2010 from 29,181 in 1999, according to the Centers for Disease Control and Prevention." Also, "that compares with 33,687 motor vehicle deaths in the same year." (Wall Street Journal, 5/2/2013).
Our research shows that 86% of the Fresh Hope participants who were suicidal prior to attending Fresh Hope have not been suicidal since their participation in Fresh Hope.
In March of 2013 Hoefs released a book entitled, "Fresh Hope: Living Well In Spite of a Mental Health Diagnosis." It is a wellness workbook which is based upon the six wellness principles of Fresh Hope. Hoefs believes that it is possible to do more than simply cope with a mental illness. In 1995 Hoefs was diagnosed with Bipolar Disorder as a result of a painful and public major manic episode. Based upon his own experience with a mental illness Hoefs strongly believes that it is possible to live a full and faith-filled life in spite of having a mental health challenge.
The mission of Fresh Hope is to empower individuals to live a full and rich faith-filled life in spite of a mental health diagnosis. Started in 2009, Fresh Hope is a peer-to-peer Christ-centered wellness approach to mental health recovery based upon six tenets that empower people to connect both their faith and recovery principles.
For more information contact Susan Hager at 402.763.9255 susanhager60(at)yahoo(dot)com.