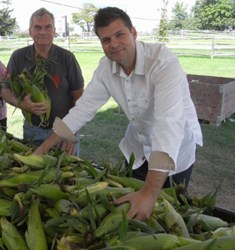 We think customers should not only know where their food comes from, but when it was picked.
Ontario (PRWEB) September 10, 2013
From late August to early September is prime time for restaurants to acquire fresh seasonal produce from our own Ontario farms.
"We're very proud that more than half of the produce used in our dishes is sourced locally at this time of year, and with our GO LOCAL program, we are working with farms and suppliers to increase that to 60% by 2014," said Jamie Martin, owner of Market Buffet & Grill, serving up home comfort food in Barrie, Ontario since 2005.
"We want to let customers know not only where their food comes from, but when it was picked."
MB&G's GO LOCAL campaign will feature farmer links on their website, cards indicating fresh ingredients used on their buffet line and interactive map of participating farms in Ontario – including mushrooms from Newmarket and zucchini squash from LaSalette.
Chappell Farms in Barrie is the closest example, Jamie gets dozens of cobs every few days with his own truck and it is used the same day it is picked. As owner Pauline Chappell points out, the benefits to the customer goes beyond the 'fuzz factor' of eating local –
"When you sit down at a restaurant, you have no idea if the garlic or carrots they use come from here, or from China," she said. "There is no thought to the conditions they grew under, the inspection or health standards. I think if more people were aware that they were eating local produce, they would appreciate getting a superior product."
But for Ontario restaurant owners, there are challenges in choosing local, swaying some establishments to bypass it completely.
"The biggest challenge when sourcing locally for a buffet restaurant is price and availability. We have to communicate with suppliers to ensure that they are getting items from certain farms or within Ontario," said Martin. "Although it takes more effort, it's not something we will give up any time soon. In fact, we'd like increase our local offering by 5%-10% next year."
-30-
Market Grill & Buffet serves an average of 2,500 customers each week with 150 items for lunch and dinner. They have given back thousands of dollars to community charities like Big Brothers Big Sisters of Barrie and District, Missing Children's Society, Simcoe County Museum as well as dozens of sports teams, community services and private customer donations. http://www.marketbuffet.com or http://www.facebook.com/marketbuffet.