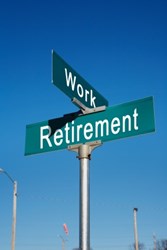 "The good side is that folks are living longer, the down side is that this means more money must be saved in order to retire....People don't have to feel panicked or stuck, there are ways out.
Bingham Farms, MI (PRWEB) September 06, 2013
Most people have heard of the term catch-22. According to an article by Michael Skapinker of Financial Times, there is a new term in the workplace, "Catch-55." This describes older workers who face having to work past a typical retirement age in order to have enough of a pension to retire with, yet they face the threat of being replaced by a younger worker.
"The good side is that folks are living longer, the down side is that this means more money must be saved in order to retire," Mitchell said. People don't have to feel panicked or stuck, there are ways out. Trading the markets is one avenue folks can take to increase their income potential."
Doc Severson, Trading Concepts' Chief Options Trader and Mentor had personally dealt with limited employment options and took matters into his own hands. "Trading the stock markets for retirement is not for everyone, but for those who are dedicated, it is one alternative to take their financial destiny into their own hands," Severson said. Severson started out trading the markets part time and within 18 months was able to quit his job and become a full-time trader.
"Doc's story is a great testament to taking charge of your personal finances and financial destiny," said Todd Mitchell, CEO of Trading Concepts. With proper discipline, patience, a strong desire to succeed and a sound trading methodology, he not only became a successful trader, he is now our Chief Options Trader and Mentor."
As founder and CEO of Trading Concepts, Mitchell is grateful not to be in a position of being replaced, but he sympathizes with those who are. Mitchell is passionate about sharing his knowledge of trading the markets with others and believes others can follow in Severson's footsteps.
Mitchell gives these five steps to consistent market profits:
1. Work on yourself consistently and your personal issues so that they won't get in the way of your trading.
2. Develop a business plan as a working document to guide your trading.
3. Develop trading strategies that fit your personality, temperament, and view of the markets, and understand how these strategies will perform in different market conditions.
4. Thoroughly understand your trading/investing objectives and develop a Position Sizing (part of money management) strategy to meet those objectives.
5. Monitor yourself regularly and minimize the number of mistakes you make.
Mitchell states that regardless of your experience level, the trading strategies taught in the Trading Concepts mentoring programs are all-inclusive and anyone interested in becoming a consistently successful trader can benefit from Trading Concepts' teachings.
ABOUT TODD MITCHELL:
Todd Mitchell has been involved with the markets since 1988. His training success has been tied to consistently developing and improving his trading approach based upon the use of bar charts. Todd Mitchell's entire approach to trading is to be honest and straightforward. Todd's love for the markets and his love for teaching echoes throughout all of his work. Todd is founder and CEO of Trading Concepts, Inc.
ABOUT TRADING CONCEPTS, INC.:
Founded in 1994, Trading Concepts quickly established a reputation as one of the industry's finest educational companies in the world. As one of the oldest, most respected trading education companies in the industry, they are proud to have mentored over 10,000 traders in Forex, E-mini futures, Options and Stock Trading, bringing them powerful trading strategies and money management techniques that have previously only been available to professional traders.