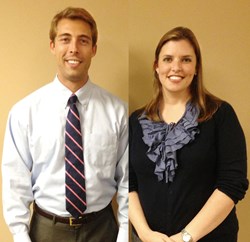 Our passion, coupled with the powerful product roadmap we've laid out, proves to me that our future is limitless.
Tallahassee, FL (PRWEB) September 06, 2013
PATLive, a leading provider of telephone numbers, live receptionist and ad tracking services, is pleased to announce the appointment of two key leaders to the executive team. Austin Davidson has been named as Vice President of Product Development and Jackie Gonzalez has been promoted to Vice President of Operations.
Davidson brings a broad range of experience to the role. Austin most recently served as Product Manager, responsible for the successful and timely release of next generation products by monitoring the standards, processes, and development of cutting-edge services. Prior to this, Austin spent 4 years in Information Technology as lead database administrator. He has had success in both the expansion of PATLive's foundational technologies as well as the design and execution of new services. Austin is uniquely skilled to manage the development roadmap of PATLive.
Austin states of the change, "It is an honor to accept this position. In my seven years here, PATLive has helped me to understand, explore, and refine my passion. I believe that software is about creating new potential that expands human possibility. I am delighted to lead the way as we embark on the journey that lies ahead. I truly believe we have never been stronger as a company, and still, our best is yet to come." CEO and Founder, Glen Davidson states, "It is a pleasure to welcome my son to the executive team. During his tenure in IT and Marketing, I have watched his knowledge and passion grow exponentially. His desire to reinvent our company and this industry is palpable and contagious. I look to him to be the fuse that ignites the rapid growth of this organization."
Jackie Gonzalez joins the PATLive executive team as an industry veteran. Jackie previously directed the customer service department for the organization, but left to pursue a law career. Prior to her return to the company and North Florida area, Gonzalez flourished as an attorney in Miami. Rejoining the PATLive team as a Project Manager, Gonzalez's leadership on key initiatives has provided clarity and new direction that is now being applied to all our development efforts. She has proven to be an invaluable member of the development team. CEO and Founder, Glen Davidson says, "Her leadership, dedication, and focus will now be expanded throughout the enterprise and we are excited to watch the impact she will have as we reinvent PATLive."
"I am grateful for the opportunity to help usher our organization into the next era of telecommunications," Gonzalez says of her new role. "The people at PATLive are my primary reason for returning to this company. The dynamic fostered here is fundamentally unique to this organization. Our passion, coupled with the powerful product roadmap we've laid out, proves to me that our future is limitless."
Karen Stark, VP of the Answering Center, is assuming a new role in Human Resources. The employees at PATLive thank Karen for her enormous contribution to the success of PATLive, which she joined more than 14 years ago. The wealth of knowledge she has acquired during this impressive tenure will serve well in her new role as the organization's new Human Resources Director.
About PATLive
PATLive, headquartered in Tallahassee, FL, is a provider of hosted phone numbers, voicemail, auto-attendants, Internet fax accounts, and live telephone answering services. PATLive's services are easily configured to meet the needs of any business. Automated systems deliver the latest technology in call routing, call tracking and reporting; while live receptionist services answer 90% of calls within 20 seconds. PATLive's customer care representatives are available 24-hours a day. More information is available at http://www.patlive.com.
Editors Note: The correct usage of the PATLive name combines upper and lower case as shown.
PATLive is a registered trademark of ATG Technologies, Inc. Any other trademarks mentioned are the property of their respective owners.
PATLive contact:
Nikki Lee
Marketing Manager
Phone: 888.824.9076
marketing(at)patlive(dot)com