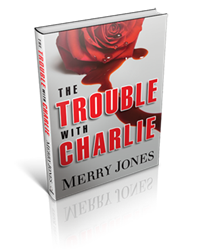 "…the pace is fast and entertaining, with the author deliberately shaking up the reader, providing a wild ride right to the end." —Mystery Scene Magazine
Longboat Key, Florida (PRWEB) September 07, 2013
THE TROUBLE WITH CHARLIE is available in Hardcover (ISBN: 978-1-60809-074-7, Thriller, Retail List: $25.95), All Digital E-Book Formats (ISBN: 978-1-60809-075-4, Retail List: $14.95), and Audio Book.
The author, Merry Jones, shared this information in a recent interview:
Relying on the Unreliable
Merry Jones
"Authors are faced with an endless array of choices and possibilities when they begin to write a book. For example, should the protagonist be male or female, tall or short, funny or serious? Sexy? Quirky? The goal is to make the character appealing and believable as well as unique. Each decision has consequences; a tall serious sexy male has different potential than a short funny quirky female. The nature of the protagonist affects the nature of the story."
In the following interview, author Merry Jones discusses the process of creating protagonist Elle Harrison (THE TROUBLE WITH CHARLIE) and explains why she chose to take Elle off the mainstream by giving her a psychological disorder.
1. Elle Harrison, the protagonist in THE TROUBLE WITH CHARLIE and its upcoming sequel ELECTIVE PROCEDURES, is what we would call an "unreliable narrator." What about Elle makes her point of view unreliable?
"Elle Harrison has been diagnosed with depersonalization disorder, a type of dissociative disorder triggered by trauma or stress. Elle has a tendency to disconnect from her surroundings; that's why she can't be considered a reliable narrator. She is likely to drift off in the middle of threatening conversations, detach from tense moments, or mentally separate from dangerous situations. These wanderings make it difficult to rely on her point of view."
2. What exactly is Depersonalization Disorder? How is it treated?
"Have you ever had a sense of being outside your body? Or of being caught in a dream where nothing is quite real?
If you answered 'yes,' you—like about one in ten other people--have experienced depersonalization. For most, the sensations pass quickly and occur rarely. But sometimes, when depersonalization occurs too frequently or interferes with normal functioning, it's considered pathological, a type of dissociation disorder.
Elle Harrison has this disorder. During episodes, she recognizes that she is disconnecting and knows that her disconnects are temporary. Even so, she can neither control nor prevent them. At best, by minimizing the triggers (stress and trauma), Elle might reduce the duration and frequency of her episodes. Various therapies might also help her cope with and minimize them. But the disorder has no cure."
3. So, why create a character like Elle Harrison? Wouldn't readers benefit from a narrator they can rely on?
"I chose Elle because, by writing in her voice, I was able to add tension to the plot while at the same time presenting insights about depersonalization.
Even with her disorder, Elle is not entirely unstable. Although she's likely to fly off to mental la la land when under high stress, she's able to function quite well in stable environments, such as in her job teaching second grade. But as a narrator, her reliability declines as stress, danger, tension or suspense increases."
4. How does the disorder affect Elle's life? Her relationships? And, since the book is told in her voice, the story itself?
"Elle's closest relationship is with a dead man: her husband, Charlie. Charlie's persona, in fact, can be seen as a symptom of her disorder; she mentally drifts off to see him when she's most stressed or traumatized. During their "visits," she confronts her deepest conflicts, sorrows, concerns and contradictions.
Elle's closest living relations are her three gal pals, each of whom is stable and "reliable." Susan Cummings is a defense attorney, a married mother of three. Becky is a loyal and fun-loving kindergarten teacher. Jen is a potty-mouthed but practical rich-man's wife. The four are like sisters, bonded for life.
Putting Elle in the context of these friendships makes her seem less odd and more sympathetic; showing her friends helping her cope with her disorder (they call it "pulling an Elle") adds depth to their relationships.
As to the telling of the story, every incidence of "pulling an Elle" lets me add layers to the plot; as she drifts off from the moment, she recalls significant elements of the past, ponders questions, recalls details and imagines future events."
5. Do you typically create unreliable narrators? Do your others of your characters have psychological disorders?
"My narrators vary. Some are wobblier than others. Sometimes I use a reliable third person omniscient.
But with each new protagonist, I want to learn something new. She doesn't have to have a disorder, but she has to be different than I am in some fundamental way so that, by "living with" her for a while, I get to see life through her eyes and learn something new.
For example, Harper Jennings (OUTSIDE EDEN, WINTER BREAK, BEHIND THE WALLS, SUMMER SESSION) is an Iraq War veteran who suffers from Post Traumatic Stress Disorder. Harper taught me about her service and its complicated aftereffects. Others of my characters have had conditions including narcolepsy, body dysmorphic disorder, aphasia, paranoia, depression, narcissism, addiction, schizophrenia, obsessive/compulsive disorder.
By creating characters with these conditions, I try to portray multidimensional, believable individuals who are not only part of gripping suspenseful tales, but who also enhance my own, and readers' understanding of the broad spectrum of human experience."