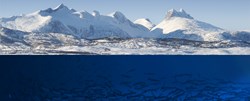 Romega™ provides a potent amount of omega-3 in the highly sought after phospholipid form.
Omaha, NE (PRWEB) September 06, 2013
The Scoular Company, together with Arctic Nutrition of Norway, is pleased to offer manufacturers of nutritional supplements a unique functional ingredient in the form of a DHA-rich, phospholipid-based omega-3 oil made from herring caviar, known under the brand name Romega™.
The herring caviar used to manufacture Romega™ is sourced from the MSC-certified Norwegian Spring Spawning Herring Fishery located in the cold, clear waters of the Norwegian Sea. In addition to offering the well-known benefits of omega-3 fatty acids, Romega™ provides a potent amount of omega-3 in the highly sought after phospholipid form. The phospholipid content of Romega™ also delivers the added benefits of choline. Choline is an essential nutrient in both maintenance of the structure of cell membranes and healthy liver function. Romega™ delivers a more pleasant consumer experience by reducing reflux and fishy aftertaste. While Romega™ is made from only the caviar (roe) of the herring, the entire fish is utilized for additional products for human consumption.
"We selected herring caviar as the best source for our Romega™ 30 percent and Romega™ 50 percent phospholipid products because the caviar is naturally rich in omega-3 phospholipids," says Hogne Hallaraker, CEO of Arctic Nutrition. "The herring caviar's omega-3 has a 3:1 ratio of DHA to EPA, making it nutritionally favorable for brain, eye, and skin health applications. The emulsifying characteristic of the omega-3 phospholipids enhances oxidative stability and ease of incorporation into food and beverage applications."
"Scoular is pleased to be working closely with Arctic Nutrition and the U.S. nutritional industry to make this promising new ingredient available," says Anne Brown, Senior Manager of Scoular's Food Ingredients Group. "At Scoular, we're very selective about our suppliers. It's extremely important that we provide our customers with high quality ingredients within a secure and transparent supply chain. Arctic Nutrition meets our high standards."
"We welcome the opportunity to partner with such a professional and well-established nutritional organization as The Scoular Company in bringing Romega™ to the North American dietary supplement and food ingredient marketplace," says Hallaraker.
Brown adds that Romega™ plays well with a number of Scoular's other product offerings. "We are working globally to develop and supply specialty omega-3 products like Romega™, including wild Alaskan salmon oil, kosher omega-3 oil, and concentrated high purity TG oils," says Brown.
About Scoular
In addition to supplying ingredients for nutritional supplements, Scoular supplies a wide variety of ingredients to the food industry, including proteins, fibers, specialty flours and oils, starches and more. A 120-year old company with more than $6 billion in sales, Scoular operates 70 offices and facilities across North America and has more than 700 employees engaged in tailoring risk-management solutions for customers by buying, selling, storing, and transporting grain and ingredients for use in feed, food, and renewable fuel markets worldwide. http://www.scoular.com
About Arctic Nutrition
Arctic Nutrition is a Norwegian biotechnology company focused on developing manufacturing and marketing premium marine ingredients extracted from sustainable and certified fisheries. Arctic Nutrition delivers its novel products based proprietary solutions to customer in the nutraceutical, cosmeceutical and fortified food segments. http://www.arcticnutrition.no