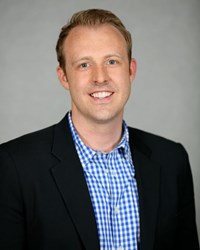 We've invested heavily in sensor technology and the 'internet of things' concept to help drive the success of what BrickTrends will bring to the retail industry.
Austin, TX (PRWEB) September 06, 2013
Erik McMillan founder of BestFit Mobile is excited to announce the creation of the new start-up organization, BrickTrends. This new company has created a smartphone-based solution designed to reinvent how consumers interact with product brands in retail locations. High profile investors back a team of executives from BestFit Mobile, Dell, HomeAway, Demand Media, Google, and CompuCom, and have already helped secure $1 million dollars for the new company.
Since the launch of BestFit Mobile in 2009, Erik's team has worked to create some of the most advanced iOS and Android mobile solutions for leading international retailers and enterprises. They've produced top customer facing apps to increase store traffic, serve relevant offers and provide redemption tracking– all ultimately leading to both brand and store loyalty.
BestFit continues to work with the nation's largest retailers on their mobile strategy and technology solutions including the creation and integration of mobile point-of-sale systems, inventory tracking, customer loyalty programs, customer relationship management systems and mobile ordering under the leadership of President and COO, Bret Cunningham.
"We're eager to implement our new solutions within the retail technology space, alongside BrickTrends, and continue to forge smarter shopping experiences which strengthen customer loyalty," said Mr. Cunningham. "We've invested heavily in sensor technology and the 'internet of things' concept to help drive the success of what BrickTrends will bring to the retail industry."
BestFit Mobile works closely with top retailers, healthcare facilities, and financial institutions to roll out a mobile-centric system where sensors embedded in physical locations are linked through wired and wireless networks. "Every day, we identify new uses to expedite and enhance standard operating practices within different industries," Mr. Cunningham said. In retail, they've demonstrated this in a unique way with their suite of in-Store and customer-facing tools as valuable brick and mortar staples. Not only can managers gain insights to real-time analytics, but employees are also equipped with tablets to extend immediate personalized assistance when customers are in a store. In another example, via location-based authentication, healthcare facilities can leverage BestFit's tools to access health information as soon as doctors step into patients' rooms.
BrickTrends' model closes the loop between brands and consumers. "This new technology is aimed at using in-store sensors to improve brand and consumer interaction in physical retail," explained Erik McMillan, CEO. "We aim to level the playing field between online and brick and mortar retail stores. BrickTrends will increase sales for retailers and brands and put in place a mechanism to deal with consumer showrooming and price matching."
Erik McMillan and Bret Cunningham both helped lead the effort to create these new technologies and offerings. Erik is now Chairman of the Board at BestFit Mobile and will continue to help evangelize mobile solutions with BestFit. Together, the companies plan to support retailers on the journey to build the store of the future with mobile and sensor technology.
About BrickTrends
Headquartered in Austin, Texas, BrickTrends develops and markets smartphone-based solutions designed to reinvent how consumers interact with product brands in retail locations. BrickTrends will provide a first look at the company and its solutions October 15 – 17 at the fall DEMO Conference being held at the Hyatt Regency Silicon Valley in Santa Clara, Calif. Additional information on BrickTrends is available at http://www.bricktrends.com.
About BestFit Mobile
Austin, Texas based BestFit Mobile is leading a mobile revolution by pioneering innovations for the enterprise within the rapidly expanding mobile market. Their creative, forward thinking mobile solutions afford their clients greater opportunities to engage closely with their customers, employees and partners. A mobile first strategy focused on application and mobile web development has become a key initiative for the majority of enterprise clients. BestFit Mobile helps enterprises combine the latest in mobile technologies and institutional knowledge with the most elegant user experiences built on powerful cross-platform mobile frameworks.
BestFit Mobile works differently than similar firms in this space by evaluating business requirements, existing processes and operational pain points before considering a specific mobile feature set. This enables BestFit to help their clients to satisfy and refine their strategic goals. BestFit provides support to maximize ROI, including promoting app downloads, keeping apps fresh with a regular upgrade path, ensuring data and APIs operate at peak performance, launching and helping to manage loyalty programs, procuring mobile devices for employees, MDM, setting security, supporting mobile end users and making sure a company's cloud infrastructure can support it all. "It's A Mobile Planet." Visit them at http://www.bestfitmobile.com.