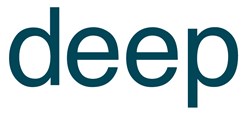 We are excited to apply Drew Kifer's versatile skills and talents to retail food marketing.
Springfield, MO (PRWEB) September 10, 2013
Today, deep announced a valuable addition to its advertising team: Account Executive Drew Kifer comes to deep with a wealth of retail marketing experiences. Kifer spent 5 years with Clorox®, where he served as associate marketing manager for Clorox 2® and Clorox® Professional Products as well as business insights manager for Clorox's Cleaning Division. His work there helped Kifer develop an important skill set, which deep Partner Valeri Lea believes "will play an instrumental role in the agency's continued expansion beyond foodservice marketing into retail food marketing."
A Bolivar, Mo. native, Kifer's experiences with persuasive advertising are both well rounded and long running. He is a Drury University alum, and his strong educational background is highlighted by leadership roles in Drury University's Students in Free Enterprise organization, now known as Enactus. Kifer served as the project leader for a variety of high-profile local projects. Such projects include a successful rebranding campaign for a long-struggling business district in Springfield, Mo. His work for the Commercial Street district ultimately resulted in the formation of 20 new businesses in just 5 years for the now-thriving area.
Throughout his career at Clorox, Kifer continuously produced measurable results for the company. His involvement was crucial in launching Clorox's first ever non-bleach hospital disinfectant. "When Drew contacted us about his move back to Springfield, we were immediately impressed by his résumé," said deep Partner, Creative Director Dan Stewart. He added, "We are excited to apply his versatile skills and talents to food merchandising, and with his remarkable track record, we expect great results. Drew's flexibility and resourcefulness are already bringing an added dimension to our marketing work, particularly in food retail."
Lea, Stewart and other leaders at deep consider the addition of Kifer a victory for their clients. They are confident his drive and determination, along with his history of success in persuasive advertising, is sure to bring continued strong results for deep's clients in retail food marketing.
deep
Part of the Marlin Network, deep was founded in 2005 and is solely owned and operated by its employees. Deep is known for producing innovative food marketing campaigns and leading-edge creative. The number one purchaser of food service media, Marlin Network includes deep, Marlin, The Alchemedia Project, FoodIQ, STARAwards and Marlin Network Consulting. Marlin Network represents more than 70 food and beverage brands and was included in Inc. Magazine's list of America's Fastest Growing Companies in both 2010 and 2011. For more information, follow deep on Facebook, Twitter, Flickr and the b!eep blog.
###