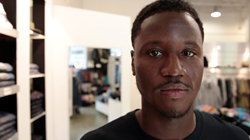 Bellevue, Washington (PRWEB) September 06, 2013
International Soccer Star Eddie Johnson makes his debut with a special segment "Fashion Forward by Eddie Johnson" at this year's Posh Party Beauty & Trend Show, the girls night out event of Fashion Week at The Bellevue Collection. The stylish evening is set for Friday, September 27th at 6:30 p.m. Attendees will enjoy appetizers and cocktails while learning the latest on fall beauty from the "Macy's Beauty Report" showcasing Stila and Smashbox Cosmetics. The finale is a runway show featuring the hottest fashions for fall. The event is open to all ages and 100% of the ticket sales benefit Bellevue LifeSpring.
A seasoned international soccer star, American-born Eddie Johnson has an extensive list of soccer accomplishments. He became one of the youngest players to sign with Major League Soccer's Dallas Burn in the 2001 MLS SuperDraft. He then played for the Kansas City Wizards in 2006-07. In 2008, Johnson jumped the pond to play for Fulham in English football's top division the Premier League. He then played for several other teams in the world's most competitive professional soccer league before returning to the US in 2012 to play for the Seattle Sounders FC. Johnson was voted the "MLS's Comeback Player of the Year" in 2012 and was also selected to represent the United States Men's National Team for the 2014 World Cup qualifiers.
"I'm excited about getting into the world of fashion…I had the opportunity to play soccer and live in London for 3 ½ years. Seeing how people dressed, how they presented themselves and their sense of style, made me want to do the same and now fashion is a big part of my life" says Eddie Johnson.
Posh Party extends all day with the complimentary "Posh Party Lounge" in Bellevue Square from 2 – 9:30 p.m. on Friday, September 27th. Anyone can enjoy a quick beauty touch up while experiencing tips first-hand from beauty brands at Macy's and other Bellevue Square cosmetic stores. RSVP by calling 425-688-6360 or emailing Victoria.u.tran(at)macys(dot)com.
For more information on Posh Party Beauty & Trend Show and the Posh Party Lounge, visit http://www.bellevuecollection.com/fashionweek. Posh Party Beauty & Trend Show tickets are on sale now for $50. 100% of the ticket sales benefit Bellevue LifeSpring.
About The Bellevue Collection
includes Bellevue Square a super-regional upscale shopping center, Bellevue Place, a mixed-use property featuring the Hyatt Regency Bellevue and small boutiques and Lincoln Square anchored by the Lincoln Square Cinemas, restaurants, home furnishings and The Westin Bellevue hotel. With a distinctive collection of 250 of the finest shops, 25 destination restaurants, a 16-screen premier cinema, 1,100 luxury hotel rooms and 10,000 free retail parking spaces, all in one location. The Bellevue Collection is shopping, dining and nightlife and entertainment experience unlike any other in the region. It is located on Bellevue Way between NE 4th and NE 10th Streets in downtown Bellevue, just across Lake Washington from Seattle.