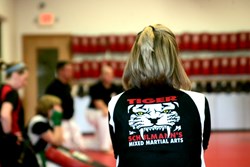 There's a difference between 'Authentic' kickboxing classes and boutique kickboxing classes. With authentic kickboxing, you are learning to use the most effective technique and are less prone to sustaining injufies.
Ramsey, New Jersey (PRWEB) September 07, 2013
Cardio kickboxing classes are one of the hottest fitness trends currently taking the United States by storm. Kickboxing classes are known to top calorie-burning charts with over 800 calories burned per hour. Most fitness publications classify kickboxing as being one of the fastest ways to lose pounds. Some of the other benefits include: Improved strength and flexibility, increased endurance... and... don't discount the added bonus of self defense.
The Ramsey, New Jersey location of Tiger Schulmann's Mixed Martial Arts offers the benefits of "authentic" kickboxing. Dozens of athletes trained in Tiger Schulmann's schools compete professionally throughout the region and country, including in the UFC.
"Tiger Schulmann's Mixed Martial Arts offers 'authentic' kickboxing classes," says Alon Feder, Director of Marketing. "With most of the aerobic kickboxing schools, you're not learning the actual techniques, movements which simulate them. You may achieve the aerobic benefit, but the moves aren't as effective. Learning the most modern and effective kickboxing techniques is a far cry from learning moves which approximate them. Improper technique also translates into increased risk of injury," Says Feder.
The Web-Only offer for a complimentary kickboxing class and pair of training gloves, plus the $50 savings certificate for Tiger Schulmann's MMA of Ramsey New Jersey can be located here: ramseymma.com/kickboxing-classes/.