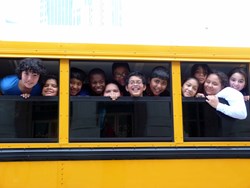 The Nashville Symphony is cultivating the next generation of classical musicians in our community through their Young People's Concerts. ~ Jim Selby, CEO of Naxos America
Nashville, TN (PRWEB) September 06, 2013
Naxos of America, Inc. is partnering with the Nashville Symphony to provide online music resources to educators who attend the Symphony's Young People's Concerts. Each year, more than 17,000 public, private and home-school students attend this free concert series at Schermerhorn Symphony Center, which combines the thrill of live music with key educational concepts. Participating teachers are provided with downloadable curriculum, lesson plans and other classroom materials designed to enrich in-school learning — all completely free of charge.
"As a classical music label and distributor, Naxos strives to make recordings available to many educational institutions and orchestras through our Naxos Music Library," says Naxos of America, Inc. CEO Jim Selby. "The Nashville Symphony is cultivating the next generation of classical musicians in our community through their Young People's Concerts and we are honored to be able to assist them in instilling a love for this art form in the children of Nashville. They are the future of classical music and we all have passion for making sure that the future is bright."
Until now, the Nashville Symphony has been searching to provide easy access to recordings that teachers could use to help prepare students for their experience at the Schermerhorn. Franklin-based Naxos stepped in and developed a custom webpage for Nashville-area educators on its Naxos Music Library site. Participating teachers can now log in on their classroom computers to hear a full range of musical works specially selected to enhance the Symphony's curriculum materials. All licensing and setup fees have been waived for teachers bringing students to the Young Peoples Concerts, providing an easy and direct pathway for young minds to learn about the rich sounds of classical music. Classical works from composers such as Stravinsky, Rachmaninoff, John Cage and more help students utilize their spatial thinking or create interactive listening activities for particular rhythms or tones beforehand. Illuminating these passages makes attending the concert more engaging and fun for the students.
This partnership will benefit schools, teachers and students throughout the Middle Tennessee area, providing cultural enrichment for children of all ages. "We have enjoyed an incredibly fruitful partnership with Naxos, the label that has released most of our recordings since 2000," says Nashville Symphony President & CEO Alan Valentine. "As proud as we are of the GRAMMY® Awards that we've won through this partnership, we are every bit as proud to be able to work with Naxos to fulfill our mission of bringing meaningful music education to everyone in our community."
About Nashville Symphony: The GRAMMY® Award-winning Nashville Symphony has earned an international reputation for its innovative programming and its commitment to performing, recording and commissioning works by America's leading composers. The Nashville Symphony has released 19 recordings on Naxos, which have received 14 GRAMMY® nominations and seven GRAMMY® Awards, making NSO one of the most active recording orchestras in the country. With more than 100 performances annually, the orchestra offers a broad range of classical, pops and jazz, and children's concerts, while its extensive education and community engagement programs inspire 100,000 children and adults each year.
About Naxos of America:
Founded in 1991 and Headquartered in Franklin, Tennessee, Naxos of America, Inc. (NoA) is the #1 independent classical music distributor in the U.S. and Canada. Specializing in state-of-the-art distribution, marketing and promotion, NoA distributes nearly 40,000 SKUs to traditional brick and mortar retail, as well as offering a comprehensive suite of services tailored to consumer direct fulfillment. Naxos of America is also the largest digital distributor of independent classical music, supplying a catalog of over 45,000 albums to hundreds of digital download and mobile outlets worldwide. NoA offers marketing, e-marketing, publicity, e-publicity, physical and digital e-commerce services, licensing opportunities, streaming services, sales and customer service for all new releases and active catalog titles of Naxos Records and more than 200 physically distributed and 400 digitally distributed labels. Recordings and artists from the labels of the NoA distribution family have earned 24 GRAMMY® Awards.
About the Nashville Symphony's Young People's Concerts:
Grades 5-8 – Reduce, Reuse, Recycle! Sept. 25-26
We all know that recycling is important for the environment, but did you know that recycling is a fundamental concept in music? Some of the greatest composers reused melodies and recycled musical themes. This unique concert will feature Stokowski's arrangement of Bach's Little Fugue in G Minor, Stravinsky's Royal March from L'Histoire du Soldat and Ives' Variations on America. Join us as we explore how music has been reduced, reused and recycled throughout the ages!