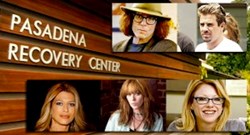 Pasadena, CA (PRWEB) September 06, 2013
The Pasadena Recovery Center Speaker Series presents "Celebrity Rehab Reunion," a gathering of celebrities who have struggled with addiction and alcoholism, and lived to tell the tale. On September 11th at 11:30 a.m. the celebrities will be speaking about what their lives are like today and the difficulties they face to stay clean and sober. A special guest is slated to attend. Pasadena Recovery Center Speaker Series hosts amazing authors, entrepreneurs, celebrities, and experts to talk about their personal experiences with addiction and the way it has affected them and the ones around them.
Celebrities who will be speaking at the reunion include:
Amber Smith
An actress and former model, Smith has appeared in films such as "Faithful," "The Funeral," "The Mirror Has Two Faces," and "LA Confidential." After her 16-year struggle with opiates and alcohol addiction, she appeared in Celebrity Rehab and has been five years sober.
Jason Wahler
Wahler is an American actor/reality star, born on January 11, 1987 in Laguna Beach, California. He is best known for being a cast member on the second season of the MTV reality series Laguna Beach. In 2009, Wahler made his film debut in the indie movie 2 Dudes and a Dream. In 2010, Wahler appeared as a patient on Celebrity Rehab With Dr. Drew, after suffering from alcoholism. Today Jason lives a sober and clean lifestyle.
Bob Forrest
Lead vocalist and lyricist for LA bands Thelonious Monster and The Bicycle Thief, Forrest was a former Chemical Dependency Program Director at Las Encinas Hospital. After his successful battle with drug addiction, Forrest went on to launch Hollywood Recovery Services in 2010 along with co-founder Shelly Sprague.
Mackenzie Phillips
An actress and singer best known for her roles in American Graffiti and on the sitcom One Day at a Time, Phillips had two near-fatal cocaine overdoses after being troubled for almost a lifetime of drug abuse. Phillips has been clean ever since her appearance on Celebrity Rehab in 2010, even winning an Honorary Best Actress Award in 2011 at the Female Eye Film Festival for her performance as Sharon in the 2010 indie film Peach Plum Pear.
Shelly Sprague
Sprague, Residential Treatment Technician and Certified Chemical Dependency Councilor with 14 years of sobriety, will also join the reunion. She had the grueling task of running the rehab floor at Celebrity Rehab in its six-season run.
Pasadena Recovery Center
98-bed drug and alcohol treatment center located in the charming historic district of Pasadena that was co-founded in 2000 by renowned psychiatrist Dr. Lee Bloom, his daughter, Criminal Defense Attorney Alison Triessl, and his son, Michael Bloom. Known for its 12-step based comprehensive treatment program, Pasadena Recovery Center is dedicated to providing, compassionate, comprehensive, and affordable care to those suffering from chemical dependency.
The Celebrity Rehab Reunion Panel will be held on Wednesday, September 11 at the Pasadena Recovery Center, 1811 North Raymond Ave., at 11:30 a.m.