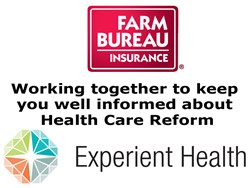 Thaxton, VA (PRWEB) September 09, 2013
Experient Health will host a Health Care Reform 101 community seminar for Virginia Farm Bureau Wednesday Sept. 11 from 6 to 7:30 p.m. at the Thaxton Community Center in Bedford County, Va. The community center is located at 1278 Thaxton School Road.
New health care reform laws that go into effect in 2014 mandate that individuals carry health insurance or, in most cases, pay a fine. Consumers will have to purchase plans with comprehensive benefits that meet minimum coverage requirements.
The free seminar is meant to provide an open forum to ask questions about, among other health care reform topics, online marketplaces (formerly referred to as exchanges), tax credits, essential health benefits, pre-existing conditions and network requirements.
Planning to attend? RSVP to Dottie Johnson or Diane Goff at 540.586.9103 or Tricia Cash at 434.385.5239.
Can't attend? Visit http://www.experienthealth.com to request a private consultation.
ABOUT EXPERIENT HEALTH:
For years, Experient Health, a Virginia Farm Bureau company, has helped people find the right insurance coverage and get the most for their health care dollars. The Richmond, Va.-based group is dedicated to providing high quality health insurance options to customers in Virginia, Maryland, and Washington DC. As a result, its consultants, with an average of more than 20 years experience, are intimately familiar with the states' provider networks, products and regulations.
Representing the top national insurance carriers, Experient Health provides customers with multiple policy options designed to meet wellness needs and financial requirements.
Experient Health grew out of Virginia Farm Bureau and is a "hometown agency" in that it operates a network of more than 100 offices. However, it boasts the resources and technology of larger firms.
Consultants are available online, via phone and through their offices.
Learn more at http://www.experienthealth.com, utilize the online health insurance quote calculator or contact a consultant directly at 855.677.6580.