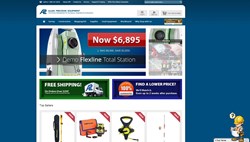 Ninety percent of all customers say they would recommend allenprecision.com to a friend for purchases of surveying, construction and mapping equipment and supplies.
Duluth, GA (PRWEB) September 09, 2013
Allen Precision Equipment (http://www.allenprecision.com) has added new features to its Online Marketplace to improve the user experience, including new interactive features and a comprehensive Blackboard with useful reference and how-to information for surveying, construction and mapping professionals. The site has also added two new payment options for customers making online purchases. Customers can choose to pay immediately by credit card through PayPal, similar to the way they have completed purchases in the past. Alternatively, customers can choose to complete their order with PayPal Express, which includes the option to pay with PayPal's new Bill Me Later® feature, a flexible credit line built into a customer's PayPal account.
"Our goal is to make our online shopping experience as enjoyable, easy and secure as possible," says Tracy Foran, general manager. "We've made a lot of changes over the last few months to make our website more interactive and easier to navigate, and the new PayPal integration makes it easier to complete purchases online."
The site has received a five-star "Shopper-Approved" rating from customers, along with an overwhelming amount of positive feedback about the new experience. "Quick, easy, great search engine, helpful information upfront. Thank you!" said one customer. "Excellent fast response," said another. "Very user friendly website." Customers have also commented on the level of personal service they receive when shopping in the Online Marketplace. "Leslie Taylor is AWESOME," said one customer, referring to one of Allen Precision's longtime service representatives. "Not only did she find me the product I needed, but she MATCHED AND BEAT the price from a competitor! Thanks Leslie for all the help - I am putting Allen Precision Equipment on the top of my list for site supplies." Ninety percent of all customers say they would recommend allenprecision.com to a friend for purchases of surveying, construction and mapping equipment and supplies.
"Offering an exceptional online shopping experience along with our 100% price match guarantee is one more way we can ensure that our customers can get what they want, when they want it, at the best possible price," Foran says.
Allen Precision Equipment – The Online Marketplace for Surveyors, Engineers and Contractors.
An industry leader for nearly 40 years, Allen Precision Engineering stocks and services 75 brands--the largest and best variety of surveying and construction products at unbeatable prices. We are proud to say that we do not outsource calls overseas, nor do we hire boiler-room operators who lack surveying expertise. Our in-house surveying experts are standing by to help answer technical questions. Allen Precision is an authorized repair facility for most major manufacturers in the surveying and construction industries. We offer quick turnaround time and guarantee all repairs to be fixed right. We also have an impressive fleet of rental equipment available, including high-definition scanners, at the best rates. With the most well-trained technical support staff in the country dedicated to providing the best support available, we stand behind and support everything we sell, whether on the job site, via our toll-free field number, or in our 5,000-square-foot training facility, Allen Precision ensures our customers are fully trained and prepared to maximize their investment. Quite simply, we want our customers to have what they want, when they want, and at the best price around.