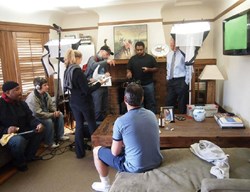 Film and business people need a way to help them connect with one another - the Film and Business Connection enables them to do that..
San Francisco, California (PRWEB) September 05, 2013
The gala free event with over 200 attending is a dual celebration for the launch of a crowdfunding campaign for the Suicide Party and for the beginning of the Film and Business Connection – a new organization to bring together members of the film and business community to help filmmakers fund, produce, distribute, market, and promote their films. Within 3 days, tickets to the free event sold out, though special invitations are available to the press. The event is being held on Wednesday, September 11 at 6:30-9 p.m. For press tickets, sign up as a member of the press on the waiting list, and the organizers will release a ticket to you.
The event is described as a Cast, Crew, and Friends Party to Celebrate Changemakers' Castro Theater Premieres and the Launch of the Indiegogo Campaign for The Suicide Party and the Formation of the Film and Business Connection.
The program features the cast, crew, and others assisting with the production of The Parking Lot, Dead No More (which won 2 awards), and The Suicide Party which all premiered at a San Francisco Film Festival organized by Scary Cow, a San Francisco film collective. The event also features introductions to two upcoming documentaries: Forgive Our Taxes and The Battle Against Internet Book Piracy, based on the book of the same name.
In addition, the event will include presentations on the Save Dave and Suicide Party Indiegogo campaign to raise money to produce the feature film, along with invitations to join the Film and Business Connection and attend its next film and networking event in October.
The organizer of these events and the new Film and Business Connection is Gini Graham Scott, the founder of Changemakers Publishing and Writing and the author of over 50 published books with major companies and 30 books published by her own company Changemakers Publishing. She also writes books and scripts for clients. She has spoken about the topics of her books to many groups and the media, including appearances on Good Morning America, Oprah, and CNN. She received a PhD in Sociology from the University of California in Berkeley, a JD from the University of San Francisco Law School, and MAs in Anthropology, Mass Communications and Organizational/Consumer/Audience Behavior and Popular Culture and Lifestyles, and a MS in Recreation and Tourism at California State University, East Bay. She will be pursuing an additional MA in Communications there beginning in September 2013.