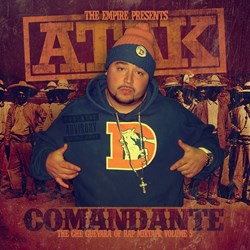 Denver, CO (PRWEB) September 05, 2013
Coast 2 Coast Mixtapes announce the release of the video "I.D.G.A.F." by Atak 1. The project, presented by Coast 2 Coast Video Distribution and Sydewayz Soundz, is now available for view on YouTube. The video is filmed and edited by 8ight tha Sk8 of Clearview Films.
Eric Johanson aka Atak 1 hails from Denver, Colorado. As a teenager, he left Peoria, Illinois with his mother to move to Denver where he found out the hard way that growing up in the new city proved to be rough as he dealt with inner city struggles. After losing his best friend in a fatal shooting where Atak was also shot twice, he is set on accomplishing his dreams and overcoming all obstacles.
Now a father of two, Atak 1 has put all negativity behind him and is completely focused on building his career in the music business. With over 14 years of recording experience, he is making a national impact. His raw delivery combined with lyrical street vocals is a combination that sets him apart from competition.
To date, Atak has released five albums, and eight mixtapes with two of those hosted by the worldwide DJ the Empire and one hosted by Coast 2 Coast's CEO Lil Fats. He has performed at numerous events, opening for big names such as Lil Scrappy, Chingo Bling, Young Buck, Baby Bash, 2pac's Outlaws and more.
As Atak continues to accomplish his goals in the industry, giving back to his community is also a priority. He currently coaches a little league football team in West Denver and mentors them about positive life choices. Atak 1 has also started a barber and tattoo shop in his community that provides poverty stricken boys the opportunity to work for free haircuts.
"I.D.G.A.F." music video is a wild party video for a true party record. Watch as Atak and his crew turn up in the club, sipping bottles and making it rain. "I.D.G.A.F." is about living the life you want and not letting anyone get in your way. If you are looking for a video to get you hyped up before you hit the club with your boys, this is the video for you. For more from Atak 1, check him out on Facebook.
About Coast 2 Coast Mixtapes
Coast 2 Coast Mixtapes are the most widely distributed mixtapes in the world, with over 100 million downloads/plays generated by over 200 volumes officially hosted by major artists. Coast 2 Coast has a solid reach in the new music industry with a digital magazine, DJ coalition, industry tips blog, yearly convention, and more. Coast 2 Coast Mixtapes represents a unique opportunity for artists of all urban genres, from major to indie. For more information, visit http://www.coast2coastmixtapes.com.