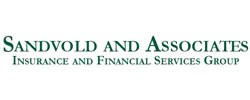 St Louis Park, MN (PRWEB) September 05, 2013
Terry Sandvold, host of Money Talks Radio Shows, is happy to announce they will be adding two new stations and three new radio show times. The new shows will be Saturday mornings at 11 a.m. on Newstalk AM 1130, Saturdays at noon on Business AM 1570, and Sunday mornings at 9 a.m. on The Patriot AM 1280.
Terry Sandvold, CEO of Sandvold and Associates Financial Services Group, has hosted his Money Talks radio shows for over 13 years in the Minneapolis/St Paul area. He was originally asked to do a show on KCCO which was designated as a local financial station, and it was then a sister station to WCCO. Terry went on from KCCO 950 AM to Kool108 107.9 FM on Sunday mornings at 7 a.m. He was then also asked to add an additional show to K-Talk 100.3 FM, which is now Newstalk AM 1130. Besides AM 1130, for many years, he added an additional station, MyTalk 107.1 FM. The two stations' shows were on Sunday mornings at 9 and 11.
Now, Terry has announced adding a third station. Many of Terry's listeners wanted him to have a Saturday and a Sunday show. In an effort to reach more listeners, Terry has worked out the schedule to help more people.
Terry's new lineup for his "Money Talks" shows is as follows:

Saturday mornings at 11 a.m. Newstalk AM 1130 (Fox News Radio)
Saturdays at Noon Business 1570 AM 1570 (Wall Street Business Network)
Sunday mornings at 9 a.m. The Patriot AM 1280
With this schedule, Sandvold & Associates offers more shows, more times and more information. Terry's goal has always been to help clients and the public get to their next financial level. For more information, go to HelpMeTerry.com.
<br>About the Company:<br>Sandvold and Associates provides insurance and financial services and follows the basic premise of an objective based, strategically outlined, individual portfolio. At Sandvold and Associates, they have made it their mission to provide an honest, dependable, and knowledgeable team of Associates for clients and the public. They work diligently to help clients get to the next level in regards to their financial future, whether it be individual or business continuation. Services include: Retirement, Investments, Insurances, Employer Services and Estate Conservation. Visit their website for more information http://www.sandvoldandassociatestc.com.
Registered Representative of and securities offered through Questar Capital Corporation (QCC), member FINRA/SIPC. Advisory services offered through Questar Asset Management (QAM) a Registered Investment Advisor. Sandvold and Associates is independent of QCC and QAM