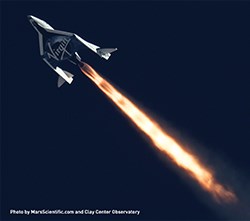 'Today's test has once again proven the safety and reliability of our hybrid rocket engine technology,' said Mark Sirangelo, corporate vice president and head of SNC's Space Systems
Sparks, NV (PRWEB) September 05, 2013
Sierra Nevada Corporation (SNC) congratulates Virgin Galactic on another successful piloted test flight of SpaceShipTwo (SS2) and is proud to announce that its hybrid rocket engines have once again powered the suborbital vehicle. Today's test at Mojave Air and Space Port, Calif., marks the second time SNC's hybrid rocket technology has safely powered SS2 to new flight test milestones. SNC's hybrid rocket propulsion system is the largest hybrid ever used for space vehicle propulsion and also propelled SpaceShipOne to win the Ansari X Prize.
During today's test, upon reaching an altitude of 46,000 feet, the SS2 spacecraft was released from the carrier aircraft WhiteKnightTwo. The pilots of SS2 then triggered ignition of the SNC hybrid rocket motor propelling SS2 to a maximum altitude of 69,000 feet, achieving Mach 1.4 in 20 seconds, all as planned.
"Today's test has once again proven the safety and reliability of our hybrid rocket engine technology," said Mark Sirangelo, corporate vice president and head of SNC's Space Systems. "We have now supported two successful crewed flight tests for Virgin Galactic and look forward to continuing to improve this technology, not only for SS2 but also for our own Dream Chaser® spacecraft. SNC is proud to be the leader in the design and development of these safe, non-toxic hybrid propulsion systems that will transport people to suborbital and orbital destinations."
SNC developed the hybrid engine technology that powered SpaceShipOne, SpaceShipTwo and will power Dream Chaser. In addition, SNC also manufactures major subsystems on the SS2 vehicle including the main oxidizer valve and the nitrous oxide release and control systems. The manufacturing of these motors are completed at SNC's Poway, Calif., location.
On April 29, 2013 SNC's hybrid rocket engine powered SpaceShipTwo on its inaugural powered flight. During the 16 second burn, SS2 reached a maximum altitude of 55,000 feet and speed of Mach 1.2
SNC's hybrid rocket systems offer a safe, high performing, and non-toxic alternative to solid and hydrazine liquid propulsion systems. The rocket motor fuel is comprised of industrial rubber, requiring no special handling or transportation, thereby greatly increasing safety while reducing lifecycle cost to SNC's customers.
About Sierra Nevada Corporation's Space Systems
Sierra Nevada Corporation's Space Systems business area has more than 25 years of space heritage in space and has participated in over 400 successful space missions through the delivery of over 4,000 systems, subsystems and components. During its history, SNC's Space Systems has concluded over 70 programs for NASA and over 50 other clients. For more information about SNC's Space Systems visit http://www.sncspace.com and follow us on Facebook at Sierra Nevada Corporation Space Systems.
Media Contact: media(dot)ssg(at)sncorp(dot)com or Krystal Scordo at 720-407-3192
About Sierra Nevada Corporation
Sierra Nevada Corporation (SNC), headquartered in Sparks, Nev., is one of America's fastest growing private companies. Under the leadership of CEO Fatih Ozmen and President Eren Ozmen, SNC employs over 2,500 people in 30 locations in 16 states. SNC's six unique business areas are dedicated to providing leading-edge technology solutions to SNC's customers. For more information on SNC visit http://www.sncorp.com.
Media Contact: julie(dot)ardito(at)sncorp(dot)com or Julie Ardito at 775-849-6968.