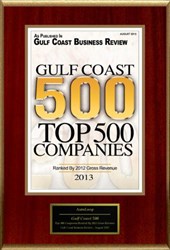 Clearwater, FL (PRWEB) September 06, 2013
Announcing a special recognition appearing in the August, 2013 issue of Gulf Coast Business Review published by Longboat Observer, Inc., AutoLoop was selected for the following honor: "Gulf Coast 500: Top 500 Companies".
A spokesperson from AutoLoop commented on the recognition: "This is quite an honor for us. The fact that Gulf Coast Business Review included AutoLoop in its selection of "Gulf Coast 500: Top 500 Companies," signals that our constant efforts towards business excellence are paying off. We are proud to be included in this recognition."
About AutoLoop (a short profile by and about the honoree):
AutoLoop was founded in 2005 with a mission to empower dealerships with unequaled knowledge, support and products that focus on engaging customers to create the most profitable business relationships possible. OEMs, dealer groups and individual dealerships utilize AutoLoop's Customer Engagement Management suite of complete marketing services, equity mining, service scheduling management and direct mail campaigns as their complete customer retention solution. AutoLoop is an Inc. 500 privately held company, located in Clearwater, Florida. For more information please contact AutoLoop at 877-850-2010.
Following the publication of AutoLoop's selection for Gulf Coast Business Review's Gulf Coast 500: Top 500 Companies list, American Registry seconded the honor and added AutoLoop to the "Registry of Business Excellence™". An exclusive recognition plaque, shown here, has been designed to commemorate this honor.
For more information on AutoLoop, located in Clearwater, FL please call 877-850-2010, or visit http://www.autoloop.net.
This press release was written by American Registry, LLC with contributions from AutoLoop on behalf of AutoLoop and was distributed by PR Newswire, a subsidiary of UBM plc.
American Registry, LLC is an independent company that serves businesses and professionals such as AutoLoop who have been recognized for excellence. American Registry offers news releases, plaques and The Registry™, an online listing of over 2 million significant business and professional recognitions. Search The Registry™ at http://www.americanregistry.com.