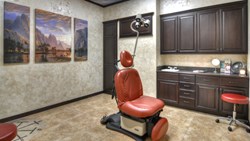 I have always been fearful of having my gynecomastia surgery under general anesthesia, not to mention the added cost. I was pleased to find out I could have my surgery done under local anesthesia. This made my decision much easier.
Los Angeles, CA. (PRWEB) September 05, 2013
The number of Los Angeles gynecomastia patients is steadily increasing each year. With this growing demand, Dr. Joseph T. Cruise recognized the need for gynecomastia surgery to be performed in a manner that would reduce risks, costs, time and sometimes extensive lab work. The solution was to offer his patients the option to have their gynecomastia surgery performed in his office procedure room under local anesthesia.
"Offering both general and local anesthesia to my Los Angeles gynecomastia patients allows them options when factoring in things such as cost, time off work, recovery, etc. The easier we can make the surgical process on our patients, the better for everyone," stated Dr. Cruise.
For more information, please visit:
The entire process of having gynecomastia surgery under general anesthesia can be quite cumbersome due to the amount of time a patient has to spend at the surgery center, the increased cost due to the need for a registered nurse, anesthesiologist, and facility fee, as well as the effects of anesthesia on the body resulting in a longer recovery.
Dr. Joseph T. Cruise is a Los Angeles gynecomastia specialist who performs a great number of surgeries per year. This type of experience, combined with his high level of efficiency and attention to detail, has allowed him the ability to perfect the surgical process when being done in office under local anesthesia. This translates into a comfortable, safe, cost effective and expeditious experience for the gynecomastia patient. It's important to note that not all Los Angeles gynecomastia patients are candidates for surgery under local anesthesia. This is determined at the time of consult and anesthesia options are recommended at that time.
About Cruise Plastic Surgery:
Cruise Plastic Surgery, with offices in Los Angeles and Newport Beach, California, is one of the top plastic surgery practices in the Southern California region. The director, Dr. Joseph T. Cruise, is a fully trained, board-certified plastic surgeon specializing in gynecomastia surgery. His dedication and focus is clearly evident in the comprehensive educationally based web site he manages and the concierge-like customer service his patients receive from the entire office. Experience and predictably good results have earned him the distinction of being one of the best gynecomastia surgeons in Los Angeles and Orange County.