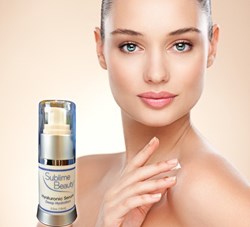 St. Petersburg, FL (PRWEB) September 09, 2013
Sublime Beauty® recently has introduced its new Hyaluronic Serum, currently on sale. Hyaluronic Acid is an essential component found throughout our bodies, with more than 50% of it in our skin. It works in tandem with Collagen to plump, bind water and lubricate.
"As we age, both Hyaluronic Acid and Collagen levels diminish," says Kathy Heshelow,founder of Sublime Beauty®, "and this contributes to wrinkles, thinning and aging of skin. By using a topical like our Hyaluronic Serum, you can help add back what has been lost and help hydrate skin deeply."
Those who purchase the Sublime Beauty® serum will receive a 5 page booklet called "Demystifying Hyaluronic Acid: An All Important Component of Our Skin" by email. "We like to empower our consumers to understand more about the products they use and why," says Heshelow.
The serum also contains beneficial ingredients like aloe, beta-carotene, cucumber, chamomile and comfrey for soothing, healing and hydrating action.
All Sublime Beauty® products are available at Amazon.com, which handles the warehousing, fulfillment and shipping for customer ease.