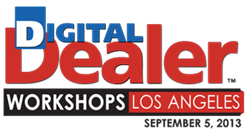 Amarillo, Texas (PRWEB) September 05, 2013
Digital Dealer, a bi-annual conference highlighting technology focused companies and thought leaders directed toward the automotive industry, holds its LA based Workshops in coordination with the Greater Los Angeles New Car Dealers Association on September 5th, 2013 at the Sheraton Universal City. Interactive 360 CEO, Rick McLey will be speaking during the workshop on "Branding in the Digital Age: You're Spending Your Money in All the Wrong Places." He will also discuss the upcoming beta launch of Interactive 360's new CRM (Customer Relationship Management) system.
The LA Workshops precede the 15th Digital Dealer Conference & Exposition in Las Vegas October 15th through the 17th at the Mirage Hotel and Casino. Among the speakers at the workshop include: John T. Meyer, CEO of Lemon.ly and Brofounder of Cloud 9, Larry Bruce, CEO and founder of Online Drive, Jeremy Anspach, CEO of PureCars and Keynote Speaker Jonika Hoomes, Head of Automotive Channel Sales Partnerships for North America speaking on "Introducing Generation C: Reaching Today's Connected Customer."
Interactive 360, Inc. is a digital marketing agency based in Amarillo, Texas that offers a "one-stop solution" of products and services for their clients in the automotive industry, including: custom website, inventory management, Drive360®CRM, monthly onsite training, social media marketing and PPC marketing campaigns to name a few. Rick McLey, CEO of Interactive 360, Inc. believes "that in order for Interactive 360, Inc. to best serve clients in the digital arena, one cannot fear change but embrace it and constantly be eager to improve." For any questions you may have, please contact Interactive 360, Inc. via their website at (http://www.interactive360.com) or by phone at 806.576.3700 or toll free at 888.762.7407.