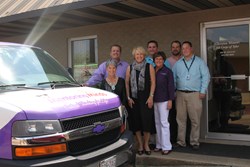 Tyler, Texas (PRWEB) September 06, 2013
Mentoring Minds and Wood Networks donated 15 computers to Christian Women's Job Corps on Thursday, September 5. Christian Women's Job Corps is a community program that offers job and life skills to women in the East Texas area who have a financial need to work and who lack the necessary resources for education and training, specifically in the area of job skills.
This significant donation arrives at Christian Women's Job Corps (CWJC) just three days before fall training is scheduled to begin. The computers will be utilized by the women to assist in computer training, business communication, applying for employment, career assessment, and learning life skills that will allow the women to transition from a life of dependency to one of self-sufficiency.
"We are excited to partner with Wood Networks as part of our ongoing commitment of giving back to the community," said Robert Bush, CEO of Mentoring Minds. This is the second donation by Mentoring Minds to Christian Women's Job Corps in the last 12 months. Mentoring Minds' employee-based profit-sharing program, MindSHARE, donated $3,000 to CWJC in December 2012.
Mentoring Minds is a national educational publisher that has been serving students, educators and administrators for more than ten years. Their mission and commitment is to develop quality educational materials that encourage children to think critically for effective problem solving in and outside the classroom. Equipped with many years of educational experience, Mentoring Mind's product development team creates materials that address relevant issues in the classroom such as critical thinking, vocabulary development, bullying, classroom management, and accommodations for students with special instructional needs. For more information about Mentoring Minds, visit http://www.mentoringminds.com.
Wood Networks has been in business for over 15 years and offers a complete line of computer-related, IT and network services for small to medium businesses all over East Texas. Their key products are technology management and support, IT support emergency response, technology consulting, secure data backup and recovery, disaster recovery planning, and VoIP phone systems. Wood Networks is a certified partner of Microsoft, HP, Cisco, Shoretel, Dell, and Sonicwall. For more information about Wood Networks, visit http://www.woodnetworks.com.